QSRs in An Industry-Wide Labor Shortage: Customer Service at Risk
America reached a record high of 4.5 million workers quitting their jobs this past November, with 1 million of them coming from the restaurant and hospitality industry – another record high. Large scale QSRs (Quick Service Restaurants) felt the backlash of the labor shortage when it came to performance and productivity, ultimately hurting brand reputations and revenue when customer service was at stake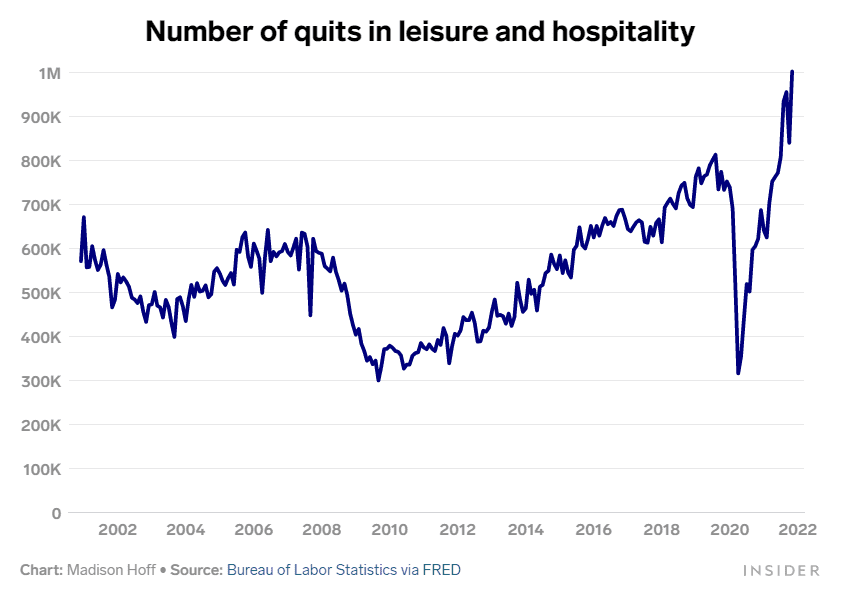 With timing and accuracy of orders being key factors in customer satisfaction rates, only QSRs adopting technologies that optimize performance and customer experience have come out on top as they continue to impress hungry fast food goers.
What's On the Menu for 2022? The Line-Up of Resto-Tech Solutions Taking QSRs to the Top
Artificial Intelligence integrated with mobile apps, on-site ordering kiosks, virtual drive-through attendants powered by AI and automation, and digital ordering processes are feeding the needs of QSR goers. Only the freshest stack of technologies tailored to QSR chains are proving to be game-changers in fulfilling customer demands and standards
From simplifying and amplifying online and front line customer experience and engagement via mobile, to precise and personable drive-through experiences, the solutions optimizing performance and customer experience have become the Big Mac of QSR success in America. And statistics backup the need to adopt these technologies, with drive-through sales indicating stability and growth at a hefty 46.96% rise from 2021 figures, and delivery orders increasing by 84.53%.
Recipe for Stack Success? Depends on the Crowd You're Feeding
Adoption of the right tech stack that optimizes QSR operations means measurable results, including customer loyalty and growth, strong market share retention, and rising conversion rates. The mobile and on-site capabilities of technologies that simplify, automate and make self-service a piece of cake is just what's in order whilst there's an industry-wide labor shortage, and beyond.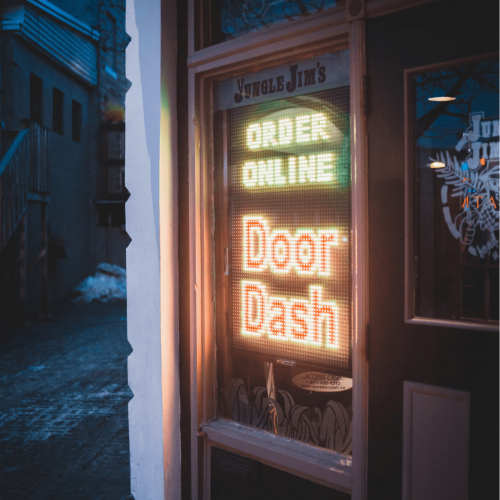 Judy Chan from Bluedot hits the bullseye brilliantly in her recent article for QSR Magazine stating, "Now consumers expect experiences to be frictionless and more convenient, no matter where or how they order, where they eat, or where and how they pick up their food – regardless of an ever-changing pandemic environment."
In other words, QSR eaters are a no-nonsense crowd, hungry, often hangry – (hungry and angry, a dangerous combo), and they want their order done right, fast, with zero hassles.
AI & Voice Technology: Invisible Robots Taking Drive-Thru Orders
Artificial Intelligence allows technology, software or hardware, to perform tasks that are usually completed by human beings. Voice technology is powered by Artificial Intelligence, so QSR drive throughs are never short-staffed with a virtual attendant that'll take your order at an error rate that's astoundingly low – and even lower than a human attendant. Fast food chains can offer a smooth drive-through experience for a more efficient and easy sales, and staff can allocate time to only things a real person can do.
Just think how many times you've had to repeat the cut of chicken you want, (thigh, wing, or leg), the sauce, (spicy or mild), repeating yourself, correcting your order, or even starting the entire process over again because of background noise, or changed decisions.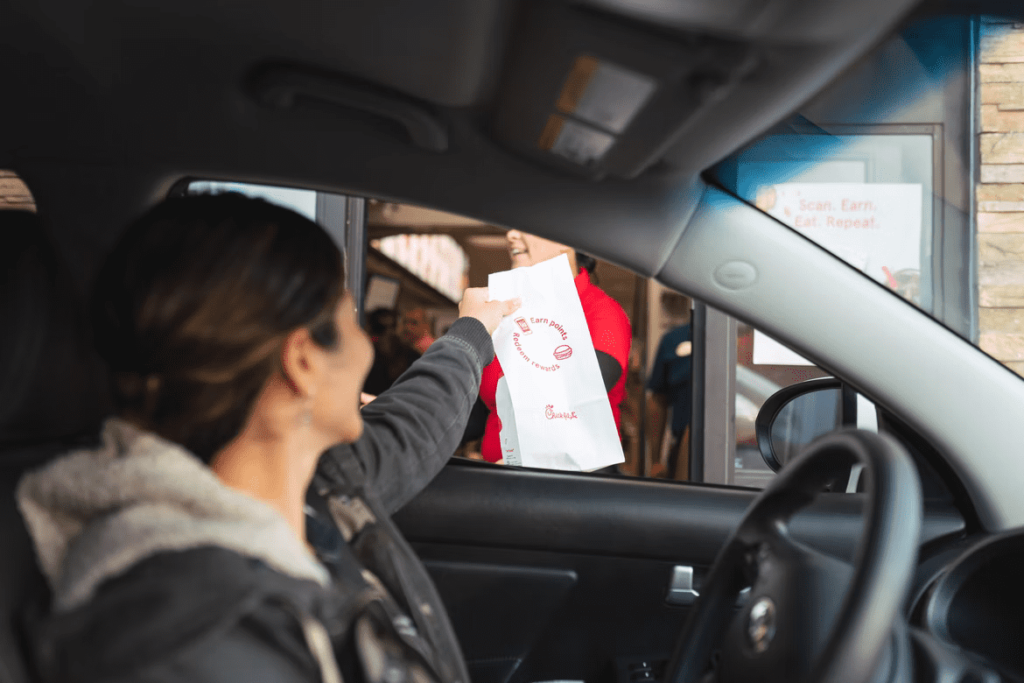 Lee's Famous Recipe, a well-known fried chicken QSR ran a pilot with Hi Auto, an AI and voice technology automated drive through attendant. The external stress factors of the human drive-through ordering process were eliminated for the customer and staff, so onsite employees could focus on providing service with a smile.
The pilot alone generated a 94% completion rate of orders and a 95% accuracy rate, with human attendants delivering a mere 84.4% accuracy rate. Having this new virtual employee that never quit, always came on time and does the job right is proving to be a lifesaver within the labor shortage.
Wait times were minimized, customers were fulfilled and happy, and staff were not replaced with the solution but rather redirected to deal with critical issues and responsibilities.
The result is a seamless drive-through ordering process that creates a win-win for everyone.
Smart Ordering with Smartphones: Mobile Tech & QR codes
What's a QR Code and How Does it Work? 
It looks like a black and white maze but it actually gets you straight to the finish line when ordering food, a QR code is a digital code that's scanned with a mobile app or a built-in QR scanner on mobile sites to make purchases, orders or payments. Every code stores specific data for products and services, from what it is to how much it costs. And guess what? QSR consumers think it's better than sliced bread.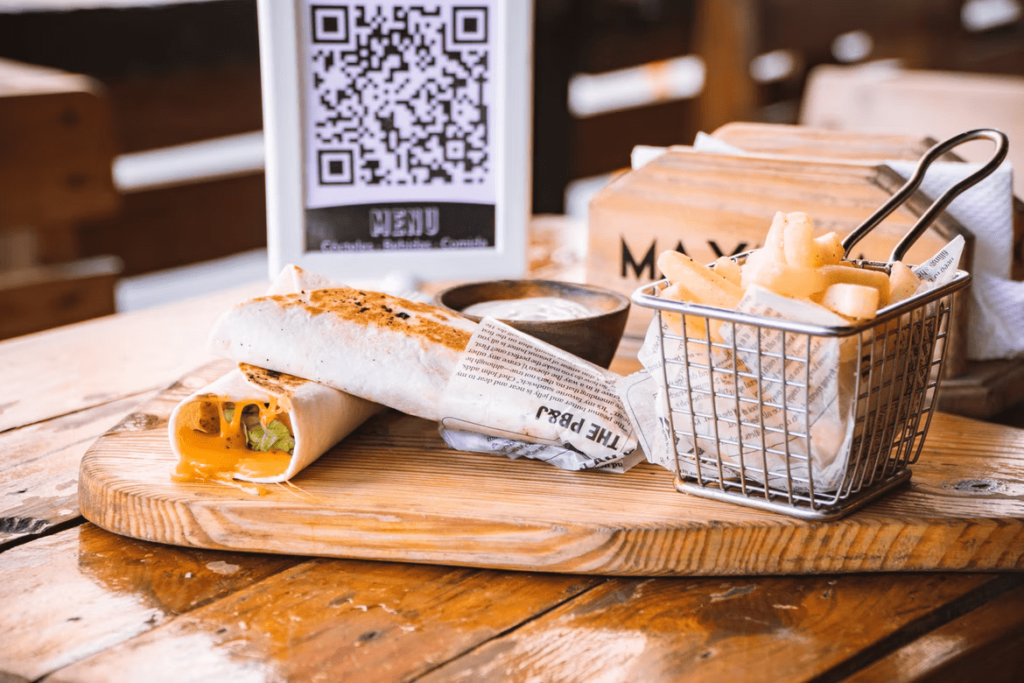 Some of the biggest brand chains have said goodbye to print menus, welcoming QR codes to make ordering quick and efficients. Plus it's a touchless and sanitary process, a big bonus in a pandemic.
Similarly, with the onset of the pandemic, McDonald's implemented self-serve ordering kiosks, and Cracker Barrel and Dave & Buster's are adopting technologies to enable contactless order and payment processing.
And despite stigmas of mass consumerism associated with the fast food industry, increasing adoption of mobile ordering solutions, like QR codes, essentially promotes sustainability.
Academic sources indicate that 85,000,000 tons of paper is used by Americans annually. That's roughly 680 pounds of paper per person a year! Annual wood and paper waste is sufficient to heat 50 million American homes for 20 years. With technologies like QR codes that enable paperless ordering, QSRs can help reduce their ecological footprint, a great marketing angle that breaks down stigmas.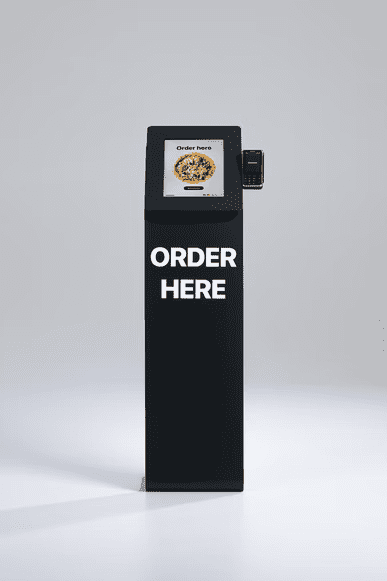 Get Your Table Booked - No Conversation Required
Remember that old saying, "don't call us, we'll call you?" Guess what? Seems like when it comes to booking a reservation at trendy dining spots with high customer demand, no one's calling much of anyone anymore.
More restaurants are sacking the phone call reservation process by digitalizing it. Whether it's a "book now" button on Facebook or Instagram pages, or entering details into a simple form on a restaurant's website, busy eateries, from casual to fine dining, just prefer less chit chat. They are opting to swap out phone reservations with simple time and money saving digital options.
Pre-booked and pre-paid meals mean restaurants will often buy specific products and ingredients in advance. With digitalizations the issue of food and ingredient waste is minimized, as they have to notify the restaurant in advance, with timeframes set by the spot.
Plus, booking a reservation at high end restaurants can often require full prepayment, or at least a deposit. Some places will keep the deposit and waive the charge for the meal with a last minute cancellation, but others will charge the full amount. Customers that have prepaid can only be lucky enough to have made a reservation at a restaurant that allows it to be transferred by selling it in the case they have to cancel.
Gregory Ryan, a busy owner of two restaurants based in Santa Barbara County in California, shares that in his 15 years in the industry, he can estimate that about 80% of phone calls are genuinely a waste of time
Anything that's documented reduces error rates, as all communication history can be tracked and accessed with ease, so restaurant staff can dedicate their energy to making the experience enjoyable for live customers.
To Sum Things Up: The Right Stack is a Matter of Circumstance
When it comes to creating just the right tech stack for the busy QSR or any restaurant, adding and removing them or switching them out with ease is paramount to achieving digitalized operational success. Think of the different solutions like cooking instruments when a chef's at work. He might start with a spatula flipping wings on the grill, but when the skin crisps and reaches a brittle golden brown, barbequing tongs might be just what's in order. The choice of tool is based on the circumstance and challenge.
If drive-through bottlenecks due to staff shortages are an issue, Hi Auto is the perfect solution and ideal for today's market, on time, polite, reducing errors and keeping customers happy while staff can focus on what matters without cringing under unnecessary pressure.
Judy Chan's piece in QSR Magazine really summarizes things brilliantly – "[…] the brands that hedge their bets with a future-proof technology stack will be at the clear advantage to build brand loyalty and gain market share."
In other words, successful adoption of digitalized solutions for QSRs and restaurants overall means looking at the challenge at hand and making the right technology work for given circumstances that change constantly. In a pandemic, contactless ordering with QR codes and kiosks, and in an industry-wide labor shortage, virtual drive-through attendants, and time-saving digital reservation options all make their mark.
Join Our Newsletter, so that we reach out to you with our best news and offers