QSR customers have done a full 180-degree turn in the last 60 years. In the 1950s, visiting a fast food joint was a luxury experience. The convenience of ready-to-go meals was underpinned by the excitement of enjoying foods that were a marvel in the post-war era.
Early QSRs found enormous success:
KFC appeared in the renowned Adventures of Good Eating

guidebook

in 1939.

Pizza Hut began franchising only one year after its debut.
And McDonald's sold $30 billion in hamburgers in three short decades.
Nowadays, the appetite for fast food is stronger than ever, but customer expectations have changed dramatically. Diners don't want the same luxury experience as they did back then – they're prioritizing speed and convenience. If that means ordering their meals themselves, they're all-in, which is why the use of self service kiosks is set to grow at a rate of 6.4% by 2026.
Let's look at what self service restaurant kiosks are and how the different types might affect your internal layout. We'll run through nine top tips to help you purchase the best kiosk for your restaurant.
What is a self service restaurant kiosk?
A self service restaurant kiosk is a device that allows customers to place their own orders and pay for them without interacting with a cashier. When a customer makes an order, the kiosk automatically sends it to the kitchen and provides the customer with a printed receipt. 
A self service kiosk is a piece of hardware, usually a standalone or built-in touchscreen, designed to be customer-facing. It has an engaging and easy-to-use interface and facilitates multiple payment options through card and contactless terminals and cash slots. In the back end, the self service kiosk's software integrates with your existing POS to consolidate all orders and transactions for purposes like reporting. 

Types of POS For Restaurants
Tabletop Kiosk
If you're tight on space, tabletop kiosks are a good choice. They are usually 15 inches in size and can be fixed to existing counters or walls without interrupting your restaurant layout. As tabletop kiosks are smaller, they are less pricey than their standalone counterparts—but bear in mind that the installation may be more expensive. 
Standalone Units
Operators with the luxury of space might choose larger standalone kiosks, which are 24 to 32 inches or taller. Standalone units are often easier to install than tabletop kiosks as long as you have the capacity and time to rearrange your floor plan. After all, the installation must minimize disruption to your daily operations.
Benefits of Implementing a Self Service Restaurant Kiosk 
Improved order accuracy:

Self service kiosks allow customers to browse and select items at their leisure. Simply put, customers can't complain about wrong orders if they place the order themselves! 

Reduced wait times:

There's no need for customers to wait in line and verbally confirm their order with a single cashier. Self service kiosks can reduce wait times by up to

40%

, which helps generate more sales. 

Reduced labor costs: You can free up staff time for business-critical tasks while customers make orders themselves, which is especially relevant during the labor shortage. 
Seamless customer experience:

By displaying everything from nutritional information to the latest deals on the self serve screen, you are providing customers with all the information they need before they ask about it. 

Modernizes your QSR:

Self service kiosks are not a new sight in restaurants, and customers expect modern digital experiences.

67%

of diners agree that self service kiosks are a convenient choice that they'd like to see more of.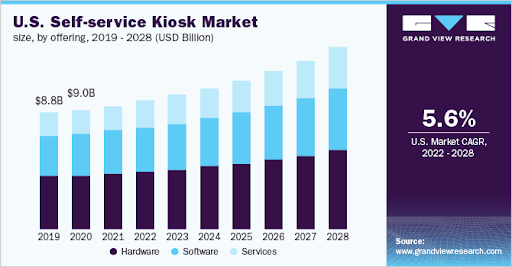 9 Top Tips For Purchasing a Self Service Restaurant Kiosk
Here's what you should consider before, during, and after purchasing a self service kiosk. 
Ahead of Buying:
1. Evaluate Your Layout
The type of self service restaurant kiosk you choose will have a massive impact on your restaurant layout. 
You may need to rearrange your interiors to make space for larger standalone units, while tabletop kiosks are much smaller and should be easier to install in your existing layout. Kiosks function best when they are in clear view of the entrance where there will be high foot traffic, but they shouldn't block emergency exits or key walkways. 
Put yourself in the customer's shoes—can they comfortably stand at a kiosk without feeling crowded? Is the kiosk in a convenient place for them?
2. Consider Important Features
Self service kiosks offer many features, but you might not need them all. Cluttering up your kiosk's interface with elements that are not relevant to your specific customers will simply confuse and irritate them. 
You know your diners better than anyone, so you should select features relevant to them: like payment options, menu prompts for upsell opportunities and compatibility with loyalty programs.
3. Identify Customer Needs
One thing's for sure – no matter which features you choose, the self service kiosk's interface should be visually appealing and meet the customers' needs. 
Collecting customer data can also help you better understand what customers look for when using the kiosk. For example, if most customers choose a meal deal option, you should act accordingly and display this promotion clearly on the screen. 

Integrating Self Service Restaurant Kiosks:
4. Must be Easy to Navigate
While the interface's design should reflect the style of your restaurant, ease of use should be the number one priority because not all diners will have advanced experience with digital technology. 
If you were a customer, would you be able to complete your order and payment using the self service kiosk without requiring help from nearby staff? Otherwise, it defeats the point of "self service." You need it to be as simple as possible.
5. Customize the Menu
Self service kiosks give customers the flexibility and control to select menu items, and your kiosk's interface should help them do this easily. 
You can use a mix of pop-ups, graphics, and visually engaging images to make promotions center-stage on the screen, which will encourage customers to click on them. How you display the menu greatly impacts upselling opportunities, so maximizing these opportunities is essential. 
6. Ensure You Offer a Range of Payment Methods
Despite the rise of contactless payments, some customers still prefer to pay using crisp dollar bills. The best way to cater to all customers' preferences is to offer various payment options via your self service kiosk. 
You could choose a standard card payment terminal that offers pin, magstripe, and EMV chip options, as well as contactless options and a cash port. 

7. Integrate With Your POS
While it might seem like a lot of work to get your self service kiosks up and running, it's actually relatively easy to integrate the kiosk with your existing point of sale (POS) system. 
For example, the POS will automatically update your menu, consolidate all transactions, and enable you to add or remove features, which means less work for you. 
A great POS will also have advanced reporting capabilities to track customer behavior and orders, meaning you can use it to monitor what products customers buy using the self-service kiosks vs. other ordering methods. 
After Implementation:
8. Keep the Kiosk Updated
There's nothing worse than collecting your order at the counter and hearing that one of the items is unavailable or finding a substitute item in your order. But it's not the substitute that annoys hungry diners—it's the false hope created when the menu is not up-to-date. 
Thankfully, this is an easy thing to avoid. If you use inventory management software or a POS that monitors stock levels, you can integrate this software with the self service kiosks to ensure automatic updates happen in real-time. 
9. Maintain the Kiosk
Just like all other software, you will need to regularly update your self service kiosks, either in-house or with support from the vendor. 
Maintaining the kiosk keeps it in tip-top shape for customers. The surrounding area and screen should be kept clean, accessible, and safe, and you should regularly check the display for any potential problems.
Streamline Your Restaurant Services With Tech
Self service restaurant kiosks are a great investment as they positively impact business operations, reduce wait times, improve order accuracy, and minimize labor costs. As with all investments, you'll want to take some time to choose the right solution for your QSR's needs, and hopefully, this post will help you during your selection.
One of the best features of self service kiosks is the cost. It's a fairly affordable way to modernize your business in line with changing customer expectations. Eventually, you will be able to digitize all aspects of your QSR's operations using automation and AI technology. All the puzzle pieces will work together to help you run an efficient, modern QSR. 
If you are interested in digitizing other parts of the ordering process, try Auto. Our conversational AI acts just like a human cashier to greet diners, take their orders, and send them to your POS, ready to be prepped by the kitchen. Self service kiosks can handle on-premise customers, and Auto can manage drive-thru diners. 
Get started with a free trial today, available here.