"Order up!" is the same as shouting 'Go!' at the start of a race. These two little words will start an explosion of activity in your restaurant. But in this race, each of your customers wants to feel like the winner.
To deliver the gold-standard experience that will leave your customers cheering, QSRs and restaurants must overcome long-term challenges like labor shortages, growing wages, and rising costs by optimizing efficiency and providing operational consistency.
One way to do this is by automating what happens before, during, and after every single "Order up!" moment by using an iPad based Point of Sale (POS) system. 
Let's discuss what iPad POS systems are, the different types and components, the key benefits for your QSR, and our top 8 recommendations for choosing an iPad based POS. 
What is an iPad based POS?
A point-of-sale system is a device or online checkout that allows your business to accept customer payments. Great POS systems also help you track sales figures, monitor inventory management, store customer profile data, and more. 
An iPad based POS operates the same way, except the software is compatible with an Apple iPad and not just brand-specific hardware. Most iPad POS systems use Bluetooth to connect to other devices (e.g., card payment terminals) and can be carried around by staff or placed in a fixed position, such as at an ordering kiosk. 
Types of POS for Restaurants
Depending on your QSR's level of digital maturity, budget, and footfall, you might have different requirements for your ideal POS. Here are a few different types to help you decide:
Legacy: Also called a traditional or on-premise system, a legacy POS is usually built into your restaurant's building and acts as a central ordering kiosk. All transactions are stored in one legacy POS device. 
Tablet-Based: A tablet-based POS is a modern system that uses a cloud-based network. Although we discuss iPad based POS in this blog, the choice of the tablet is really up to you.
Cloud-Based: You can use most types of hardware with cloud-based POS software. As it stores all data in the cloud, you can access the POS information from anywhere on multiple devices.
Mobile: Similarly to its tablet-based counterpart, a mobile POS is a small and portable option for employees who walk around with their POS. 

6 Benefits of iPad Based POS for Restaurants
Modern and Up-to-Date: In 2023, customers have extremely high expectations of their favorite QSRs. An iPad based POS helps you offer modern, digital experiences that are efficient and fast. 
Affordability: An iPad based POS is a more affordable option than a built-in legacy POS, and who doesn't like to save budget?
Easy to Set Up and Use: If you already have an iPad, you can get up and running quickly by downloading the POS software of your choice.
Less Maintenance Required: Legacy POS systems are often technically complex, meaning that you might need to call specialized tech teams and engineers if anything goes wrong. In contrast, an iPad based POS requires little maintenance that you can perform yourself. 
Familiarity: Almost everyone has used an iPad before, which makes using an iPad based POS convenient and accessible for most employees and customers.
Movability:

With the big chunky POS systems of yesteryear, iPad POS is a blessing for those who regularly re-design as they're easily movable.
Key Components Every POS Should Have
When selecting an iPad based POS for your QSR, keep an eye out for these key components:
Hardware
If you're reading this blog, you might already have an iPad lined up, ready for some brand-new POS software. But a tablet isn't the only hardware you will need. 
The best POS uses Bluetooth to communicate with printers, card readers, barcode scanners, and screens (e.g., customer display), enabling you to deliver a full customer experience without using multiple tools to manage each piece of hardware. For example, some POS systems will scan barcodes to automatically search items, then display them on a screen for the customer to easily see. 
Payment Processing Options
"Do you take credit card?" is so 2019. Now, customers are asking questions like, "Do you take contactless?" and "Can I order on your app?". Many POS systems offer the option to accept various payment methods, such as credit and debit cards, cash, and mobile ordering. 
By choosing a POS that also offers integrations with third-party tech tools, you can manage payments from delivery apps in your central POS hub too. 
Reporting Features
One of the most pivotal benefits is greater visibility over all of the business operations in one platform. 
With that in mind, you should choose an iPad based POS that offers advanced reporting capabilities, including inventory management, customer profiles, and sales data. If the POS also connects to the cloud, you can access the data and reports from anywhere.  
8 Top iPad POS tools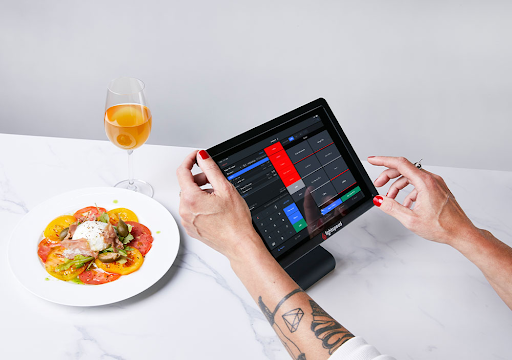 1. Lightspeed POS
Lightspeed's restaurant POS for iPad offers more than just sleek hardware. QSRs can make transactions through credit, debit cards, and QR codes and manage all payments in the compatible Lightspeed Restaurant ePOS software. It's a versatile choice if you need to diversify your order- and payment-taking. 
Best For: Managing multiple types of ordering (e.g., takeaway, drive-thru, mobile).
Price: Starts at $59/month for restaurant customers. 
Review: "Lightspeed has replaced our antiquated POS system, and we're happy we made the move. It has enabled us to make menu changes much easier, […] sync across delivery platforms, and allowed us to offer customers the option of ordering online."

2. SumUp
SumUp offers standard POS features, including sales reporting, menu management, multiple payment options, and built-in automated marketing campaigns. For example, customers who sign up for your loyalty program will receive automated promotions through SumUp's POS. 
Best For: A low-cost option for new or small businesses.
Price: There are no upfront costs for the POS. Instead, you pay a percentage fee between 2.75% and 3.25% of the sale each time you accept a transaction in person or remotely (such as if the customer uses mobile ordering). 
Review: "I can truly say that this switch has been the greatest amendment I have made to the business. Really easy interface, a super easy setup, and an easily amendable & user-friendly interface, great ticket printing."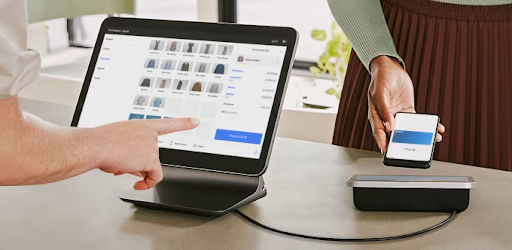 3. Square Up
Square Up's best feature is that the POS is easy to set up and use, offering one-click integration with your website, social media, and third-party delivery apps. There's no training required to use it, and you can enable all the tools you need in a few taps, such as cash management and customer profiles. 
Best For: Fast and simple setup.
Pricing: There are no setup or subscription fees, and you only pay when you take a payment. The fee is 2.6% + 10 cents per transaction.
Reviews: "Square POS works on devices like computers and mobile phones through the Square POS application. It is a great tool for accepting payments as well as maintaining records."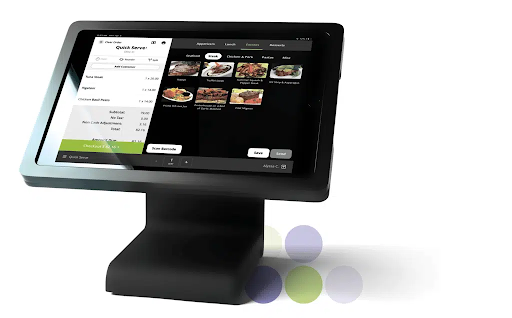 4. Lavu
Lavu's POS has helped sell 4.5 billion menu items, and it's even made an appearance on Kitchen Nightmares! Putting its fifteen minutes of fame aside, Lavu is designed specifically for restaurants, and you can add or remove features as your business grows. 
Best For: The flexibility of selecting add-ons (and for catching Gordon Ramsey's eye!).
Pricing: The Starter package is between $59 and $79/month. If you need more add-ons, you can opt for the Growth package at $129-$149/month or the Optimize subscription at $279-299/month.
Reviews: "The Lavu POS system is very intuitive and easy to use – even for the basic users. Ordering has never been easier whether you're picking up your food, getting it delivered or dining in."

5. TouchBistro
Similarly to Lavu, TouchBistro is designed exclusively for the food service industry. It offers a kitchen display system to streamline communications, a customer-friendly display to build trust during transactions and enables you to take online orders. 
Best For: Its built-in loyalty program feature. 
Pricing: Pricing starts at $69/month, and you can request a quote depending on your QSR's needs. 
Reviews: "The software is iPad based, so it's incredibly easy to learn and teach. The interface is easy to use and integrates with scheduling software such as HotSchedules and 7Shifts."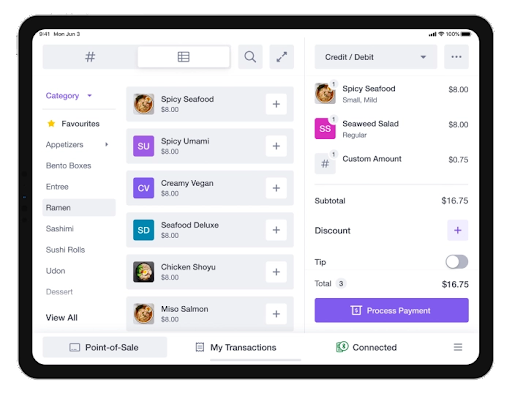 6. Helcim
In Helcim's own words, the POS is "built for your tablet checkout experience." The Helcim Payments App is iPad-friendly and sleek, with an intuitive interface that makes it easy to visualize transactions. Helcim also offers an inventory management feature with automatic sync, which will help you keep on top of your stock levels. 
Best For: Real-time inventory management.
Pricing: There are no monthly subscription fees. Instead, you will pay a processing rate of 1.68% + 8 cents for in-person transactions and 2.40% + 25 cents for online orders. 
Reviews: "The terminals you get are reliable and payment issues are very rare. Helcim also supports a subscription method. You can set-up accepting prepaid cards easily."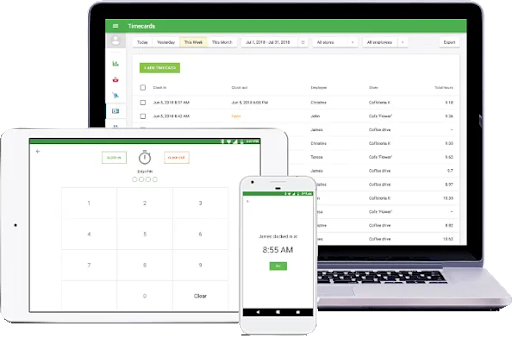 7. Loyverse
Loyverse means "loyalty universe." With that in mind, you'd guess Loyverse would rank as the top choice for loyalty programs, right? Well, it's an equally strong option for employee management. Loyverse helps you track sales by employee, calculate total work hours, and grant different access levels. 
Best For: Employee management and team scheduling.
Pricing: While some basic features are free, you can pay up to $25/month for add-ons.
Reviews: "Loyverse is in a rare space offering a very low cost product in the POS/restaurant ops space. Even at the low price point, they offer a kitchen tablet software (alternative to a kitchen printer), a POS for taking orders, sending orders to the kitchen and running a bill."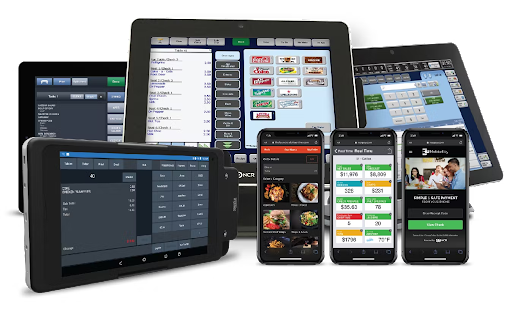 8. Aloha 
You can run Aloha's POS software on various mobile devices, including iPads. Aloha gives you end-to-end control over your restaurant operations. With inventory management, a loyalty program, and marketing features, Aloha is a good all-round choice. 
Best For: Handheld ordering, and good for large businesses. 
Pricing: By inquiry.
Reviews: "This software is amazingly easy to use. I love that it integrates with online ordering. It is user-friendly and the reports are in real time."
Increase efficiency and upgrade your tools with tech
An iPad-based POS is a great tool to help you start your digital transformation journey with minimal investment, effort, and training required for your staff. And while the POS is ticking away, conversational AI solutions like Auto can digitize drive-thru ordering and add yet another level of efficiency while maximizing the value of your POS.
Auto, from Hi Auto, greets guests and takes their orders just like a human employee—plus, it integrates smoothly with your POS to keep orders moving through the next stages. 
Hi Auto greets your guests, takes their orders, and sends them directly to your POS system. 
By enabling this two-way communication between your drive-thru and POS, you can gain visibility over your inventory management and ensure the kitchen teams get started on food preparation as soon as possible after an order is placed. Request a demo today to try Auto for free.