In November 2021, a whopping 1 million restaurant workers in America resigned in what has become known as a national labor shortage. According to the Business Insider: 1 in 16 leisure and hospitality workers across the US, which amounts to 6.4% of the industry's workforce, acted with their feet and quit.
With Covid-19 impeding on accessibility of on-site dining due to specific regulations and limitations, and customers' growing hesitations to increased risks of infection with human contact, statistics show a steady growth in takeout, drive-thru, and delivery orders.
Drive-thru sales were reported as 46.96% higher than the previous year, according to QSR magazine, which shows stability in the channel's surge.
Digitalizing ordering, management, sales, and inventory processes have become the recipe for customer and worker fulfillment, as QSR operations are becoming more and more streamlined and simplified due to ever-advancing technology.
From simple and speedy ordering to heightened customer convenience with mobile apps, technology is paving the way for QSRs as it helps to scale up and to sustain business continuity at a time where it's most needed.
With the growing digital world, customers are seeking personalized purchasing experiences that provide added value and interaction.
For the brands that are keeping up, they are rewarded with customer loyalty, increased satisfaction, and an engaged workforce.
Let's take a look at the top eight technological solutions which are taking the fast food industry to a whole new level…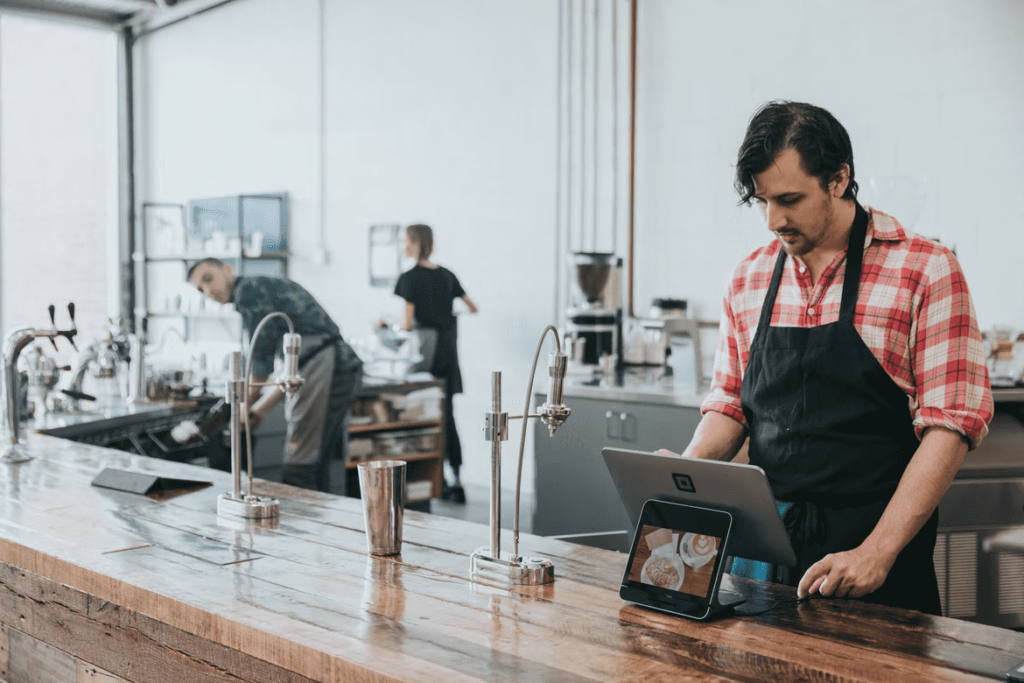 Top 8 QSR Software Solutions in 2022
One of the biggest challenges that many companies face is slow technology. And unfortunately this happens to be one of the biggest pet peeves for customers, in particular those who want to pay and eat quickly and efficiently.
The adoption of an advanced Point of Sales System (POS System) has simplified, automated, and streamlined payment processing. Built-in automation technology can prompt staff to offer promos and upsell with each purchase recorded, and leaves everything traceable and easily trackable.
Human error is minimized and QSRs can take advantage of the valuable insights gained on KPIs from the analytics modules which many POS systems now have.
This further helps to track inventory, to check on offers and promos, and to integrate various vendors and payment processing providers.
Long gone are the days of writing everything by hand and then later scrambling to find the right piece of paper needed for analysis later on down the line.
POS Solutions Gaining Traction with QSRs:
The beauty of TouchBistro is hinted at in the name – one touch, with dozens of options at your fingertips. This platform makes floor plans and table management simple, and accurate with visualization, as well as automated upselling options to increase revenue.
TouchBistro offers integration for a variety of mobile device ordering options, with great staff management and time tracking features. With all the data recorded in the system, QSRs can identify fallouts and successes to rethink staffing and shift operations, workflows, strategies, and to leverage business growth opportunities.
Toast POS can be fully integrated with self-ordering kiosks, so order times are faster with the power of automation, taking stress and workloads off staff during peak times in a labor shortage.
The user-friendly and easy-to-navigate interface makes adoption easy, offering QSR management teams remote cloud-based reporting. As well as the opportunity to implement gift cards and loyalty programs, as well as mobile and online ordering options to keep sales up and to make purchasing an engaging and fun process.
cards and loyalty programs, as well as mobile and online ordering options to keep sales up and to make purchasing an engaging and fun process.
Converting a customer is often known to be easier than retaining one. Maintaining customer loyalty isn't a simple task within the restaurant industry, and it requires smart marketing to get that fast food customer coming back for more than extra sauce for their fries.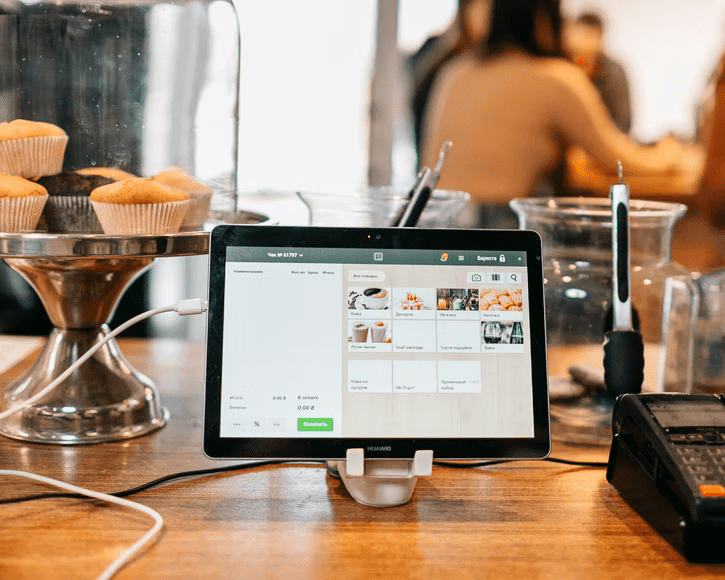 In a way to engage customers and to bridge the gap between the first visit and the visits thereafter, QSRs are turning to reward and promo programs.
With codes and accounts that stack up loyalty points, or which offer and alert a customer to a great deal, companies are able to engage in an innovative way – with various channels, including apps, social media, landing pages, and more widely available.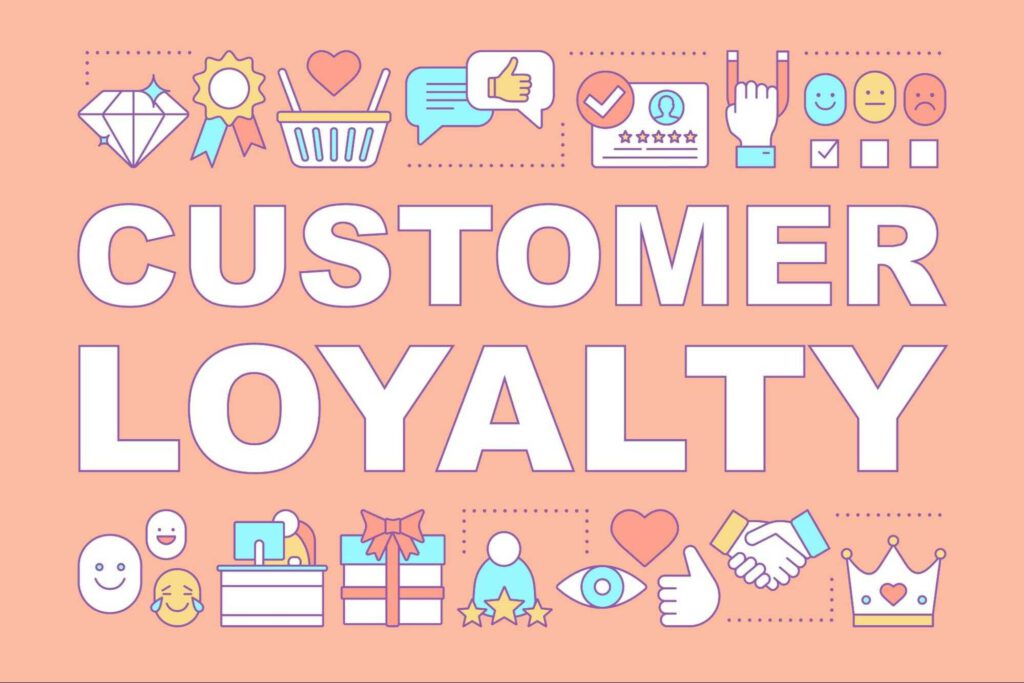 Here are two leading solutions which show off a superior customer rewards program:
With Clover, QSRs are able to reward their customers through a unique and simple program – Clover Rewards. This convenient add-on comes as a complimentary addition to the Clover POS.
Each reward can be customized to fit each business and most importantly, each customer.
The aim of offering rewards, alongside the Clover POS, is to create a standout experience. One that will leave customers returning time after time.
This is a scalable solution that allows companies to implement personalized points and rewards programs, with the aim of extending customer loyalty with ongoing perks or limited time offers.
Full strategy and implementation of programs can be based on brand objectives and the target audience, with the team behind Foresight drilling down on the analysis to identify the right membership program to sustain customers and to provide business continuity.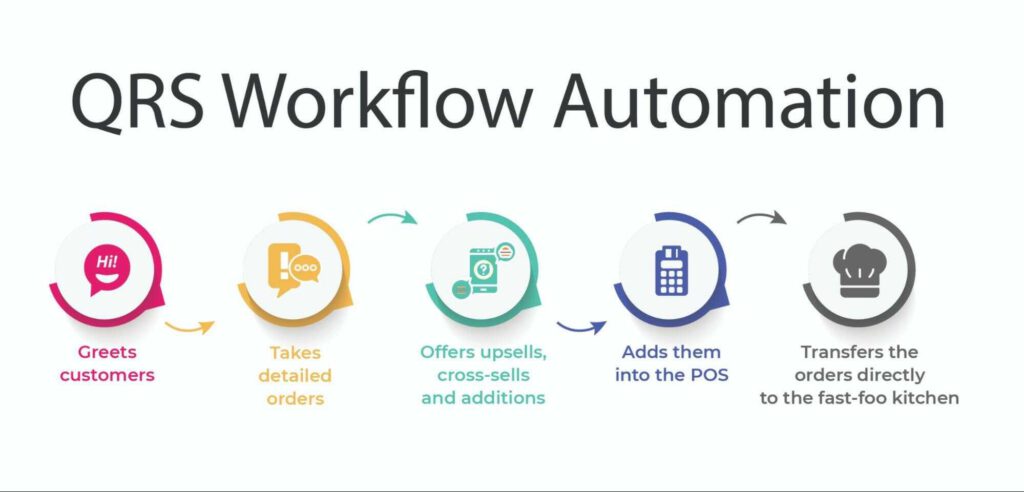 With numbers on the ground drastically reduced due to staff shortages, workflow automation technology is becoming a key player within the QSR market.
In busy drive-thrus, workflow automation expedites and optimizes operations in a cost-effective manner, allowing employees to focus on customer service on the frontline.
Let's look at who is leading in the growing demand for automation…
Hi Auto has proved to be a gamechanger within the world of QSRs, and has become a necessity to many throughout the pandemic and the ongoing labor shortage. Hi Auto provides an automated ordering process with the use of artificial intelligence and voice technology.
The solution simulates the drive-thru attendant role with an outstanding 94% accurate completion rate, which has been well-documented with Lee's Famous Recipe Chicken, a much-loved fried chicken franchise. The study shows vastly improved results, with time being saved and human error significantly reduced. It has also helped multiply upsells rates 4X leading to improved bottom line.
The team are left feeling supported with additional time on their hands to directly engage with customers – whilst Auto, the virtual attendant, is reliably creating a fluid curbside process.
Hi Auto can be integrated directly into a QSR Point of Sales system to make the entire process easy, precise, and hassle-free.
Givex aims to integrate the POS system with online ordering from any mobile device, streamlining the process by sending orders automatically to kitchen line chefs in under 10 minutes.
This automated technology allows for kiosk ordering, plus a digitalized display system that's public facing for innovating customer engagement, order status notifications, which are all synchronized with a display board in kitchens.
Thankfully for everyone involved, tracking inventory has transformed from being the tedious and painstaking process it once was, with digitalized procedures on hand to assist with management.
Being short of resources can be a painful hit to the customer experience, and it can be hard to know when someone may need an extra straw, fork, or 10 BBQ sauces for a single person's order, but with inventory management, QSRs can maintain 24/7 awareness of ingredient and supply stock to prevent the dreaded in-the-moment panic.
Tracking supply in this way also helps in the fight against climate change and global warming, with identifiable consumption rates to eliminate the waste of hundreds and thousands of ingredients and stock which would otherwise be thrown in the trash.
Two inventory management solutions making their mark:
Upserve by Lightspeed provides an easy-to-use inventory management software, with the aim of gaining and retaining important information about customers and their preferences.
By utilizing these crucial metrics, the software allows for a more accessible way to reduce waste, streamline the back-of-house, and cut costs.
It does all of the leg work for you, with Upserve even taking note of recipes and taking all ingredients into account when an item is sold. There's also no fear of running low as inventory alerts will remind you at various stages.
Brightpearl automates inventory and order processing workflows, and centralizes all omnichannel inventory ordering and stock trading into a single solution.
As a result, operational efficiency is strengthened with shorter processing and delivery times.
Ultimately, digital transformation and innovative technologies are proving to separate the good QSRs from the great, as they leverage customer experience and add a great value to brands and operations.
With the challenges of both a global pandemic and then an industry-wide shortage, optimizing all operational processes has become a turning point for many. This can lead to an increase in sales, customer support, and employee satisfaction.
Companies can strengthen their innovative online presence with loyalty programs and online ordering options, whilst using smart POS systems to provide a deep insight into how to successfully wow the target audience.
And with key solutions like Hi Auto, order time and precision are at their best – thanks to AI-driven voice technology powering a hassle-free ordering experience.
The integration of these technological solutions can lead to a much smoother ride for all involved.
Join Our Newsletter, so that we reach out to you with our best news and offers