From robots flipping burgers to AI taking your orders, automation is improving efficiency and customer satisfaction – and helping QSRs to meet modern expectations. While a robot can't get in there to sort your billing and finances, automation definitely can.
Business owners and managers spend 16 hours per week on administrative tasks – surely this valuable time would be better spent assisting in recruitment and day-to-day tasks in light of the current hiring crisis? This is where software can come in handy.
This blog will explore how you can apply automation to streamline your accounting processes and be less reliant on your employees. We will also review the top 8 restaurant billing software that we recommend. 
What is billing software for restaurants?
Automation can make all areas of your restaurant operations smoother, including billing. Billing software automates repetitive accounting and finance tasks like invoice processing, accepting customer payments online and on-site, and inventory purchasing. It's an easier way to charge customers and monitor the financial streams in and out of your business. 
What are the benefits of utilizing restaurant billing software?
Ease of use:

Billing software offers

a centralized hub for all transactions and sales,

making it simple for your staff to view and understand the information. 

Quicker to process:

Speed up your productivity by using billing software to

automate slow manual processes like raising invoices and receiving orders.

 

Additional features:

Some billing software acts as

a one-stop shop for other accounting needs like inventory management, loyalty programs, and table reservations.

Therefore, you can make decisions faster based on the data collated across all systems. 
Reporting capabilities: Consider billing software to be like a data repository. You can keep data on every customer, transaction, store, and more, which enables advanced financial and operational reporting.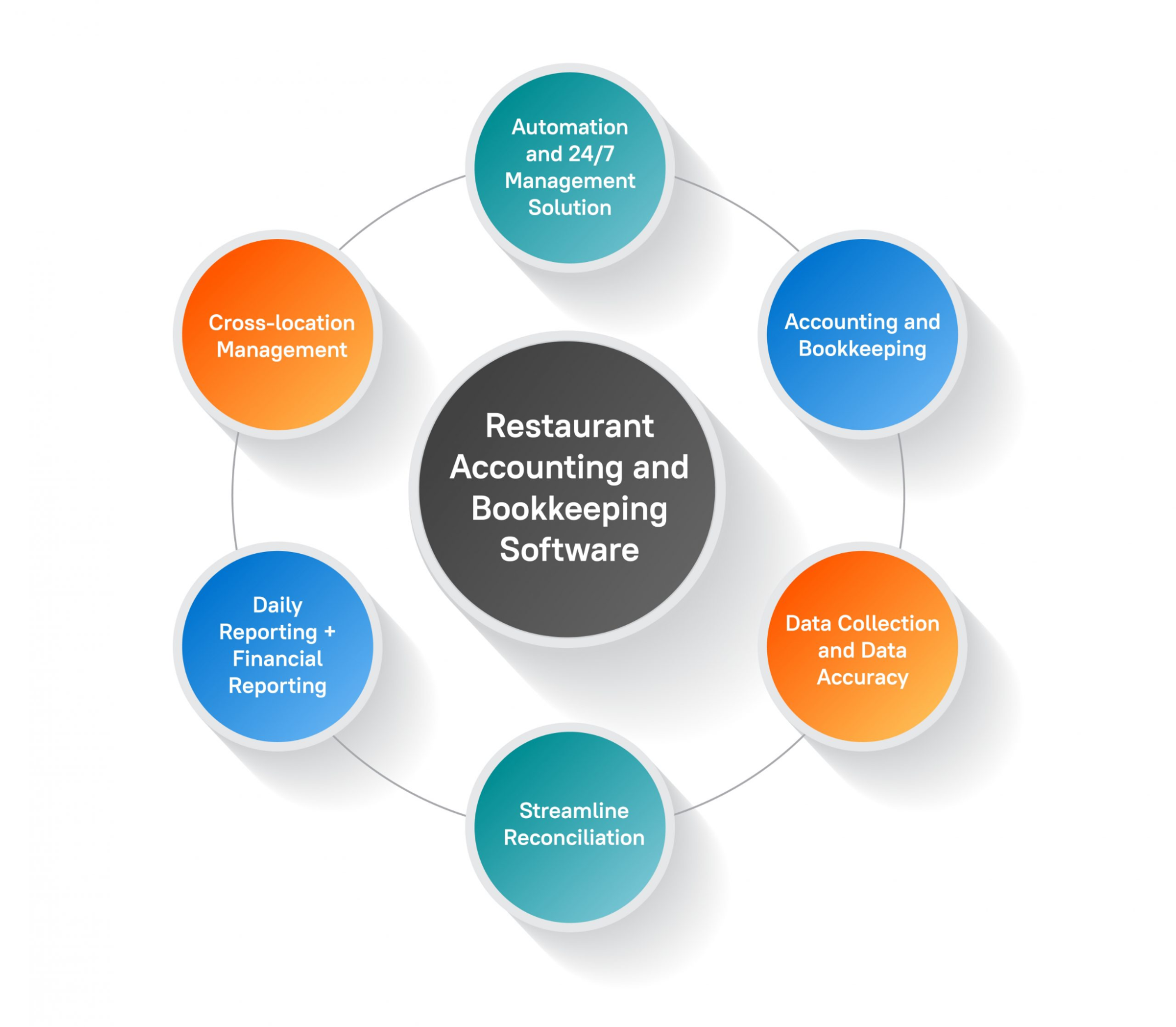 Key Features to Look For in a Restaurant Billing System
All-in-one management:

In order for the billing software to provide value to your operations,

it needs to automate a suite of accounting functions, including orders, taxes, invoicing,

and more. 

Multiple payment methods:

Nowadays,

cash, card, and mobile payments

(e.g., Apple Pay) are considered the bare minimum to accommodate touchless and traditional payment methods. The more you offer, the more customers you can serve. 

Cloud data storage:

As your business scales, you will process more customer information, reports, and data.

Storing this information in the cloud protects your business against data loss

and gives you easy access. 

Offline operation:

You must be able to access the billing system from anywhere (with or without the internet)

to eliminate service interruptions and downtime.

 

Accessible customer support:

If you run into problems with the software, it could limit your ability to serve customers.

24/7 support like chatbots or an account manager can make all the difference between disruptions and uninterrupted runtime.

 

Multiple modes of ordering:

The software should

integrate with third-party apps

(e.g., delivery apps) to consolidate online and in-store orders across a range of platforms. 

Multi-store capabilities:

Unifying and

standardizing reporting across all your stores will help you make reliable data-driven decisions and enhance operational efficiency

on a larger scale. 
Top 8 Restaurant Billing Software for 2023
Not sure where to start when it comes to choosing restaurant billing software? Here are our top 8 picks.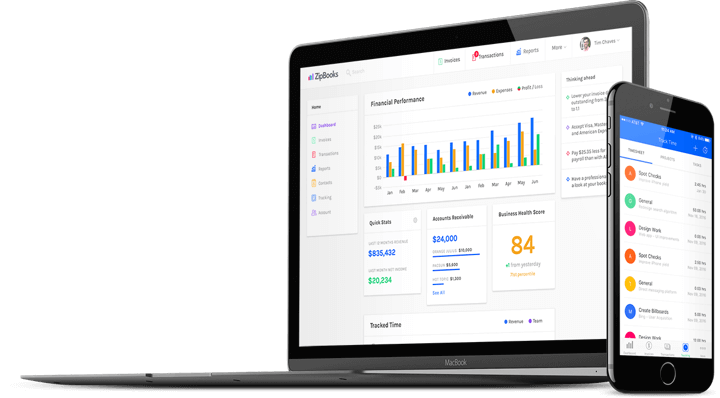 With Zipbooks, you can organize your work into projects and tasks, making invoicing, time tracking, and storing receipts easy. Although Zipbooks isn't designed specifically for the restaurant industry, it's an intuitive and simple-to-use choice.
Best for: Tagging capabilities for better organization. Quickly tag any transaction and generate reports based on one or more of the tags. 
Price: A free Starter package, then a tiered structure from $15/month to custom pricing. 
Review: "Easy to use, no frills, perfect for small business. Makes the daily chore of bookkeeping fairly easy."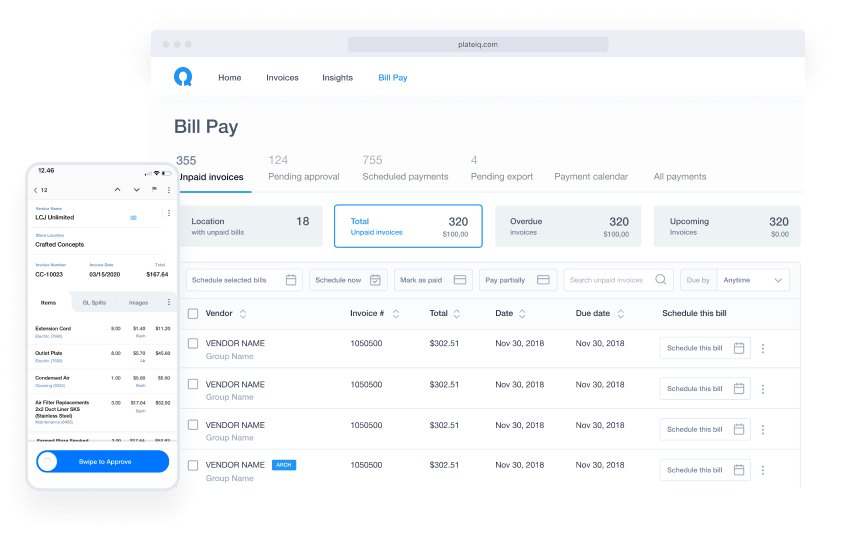 Plate IQ lets you sync data across multiple systems and use your AI bookkeeper to flag duplicate invoices. Simply drag and drop invoices to upload to Plate IQ, then use the smart digital filing cabinet to stay organized. 
Best for: Invoice automation. You can spend 80% less time on invoicing with Plate IQ. 
Pricing: By inquiry. 
Review: "The ability to search specific items and prices throughout multiple years is a fantastic feature."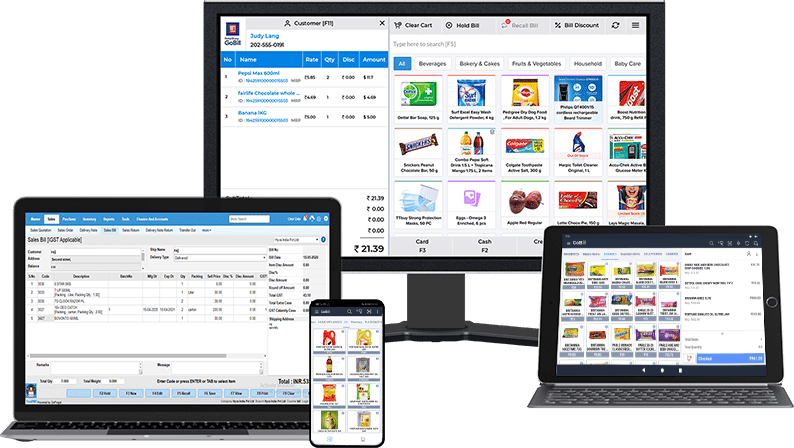 Stakeholders and management can collaborate using Go Frugal's ServeEasy smart billing software for business intelligence and reporting. It also offers useful data backup and security features with encryption and access control. 
Best for: Streamlining omnichannel integration. Go Frugal helps you manage billings and transactions for online, delivery, and in-store orders across multiple platforms.  
Price: Free 15-day trial. Then, by inquiry. 
Review: "As a partner, we liked the quick installation and ease of use. User access rights and software options easily configured."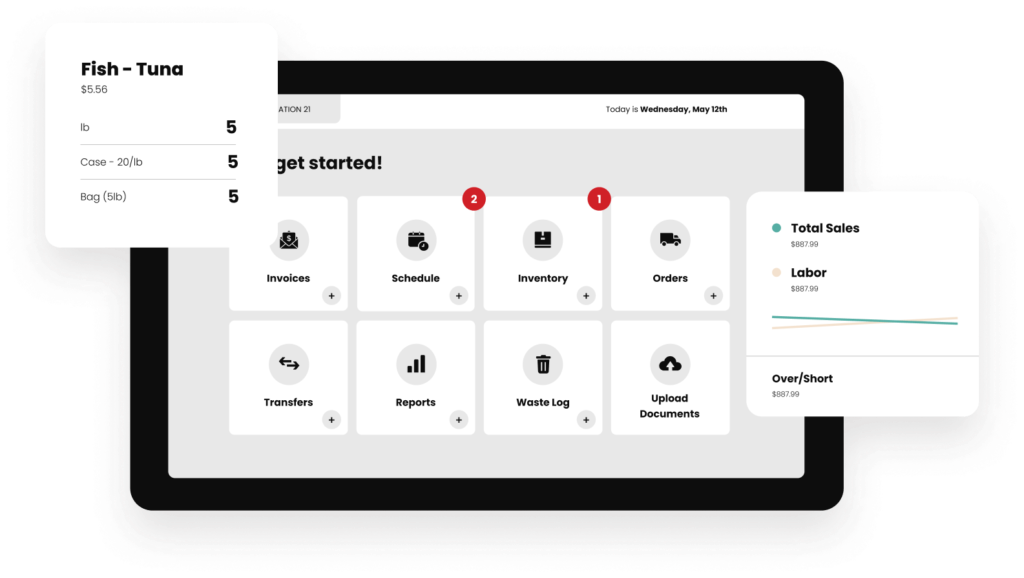 Restaurant365 has been designed to help you stay on top of your billings even when you expand to more locations, so it offers cloud-based accounting and seamless integrations with POS, banks, and third-party vendors. 
Best for: An all-in-one platform for accounting, store operations, and workforce management. 
Pricing: You can request a demo first. The Essential package costs $435/month, and the Professional is $635/month. 
Review: "[I like the] integration of all companies on one platform and ease of financial transaction interaction between them."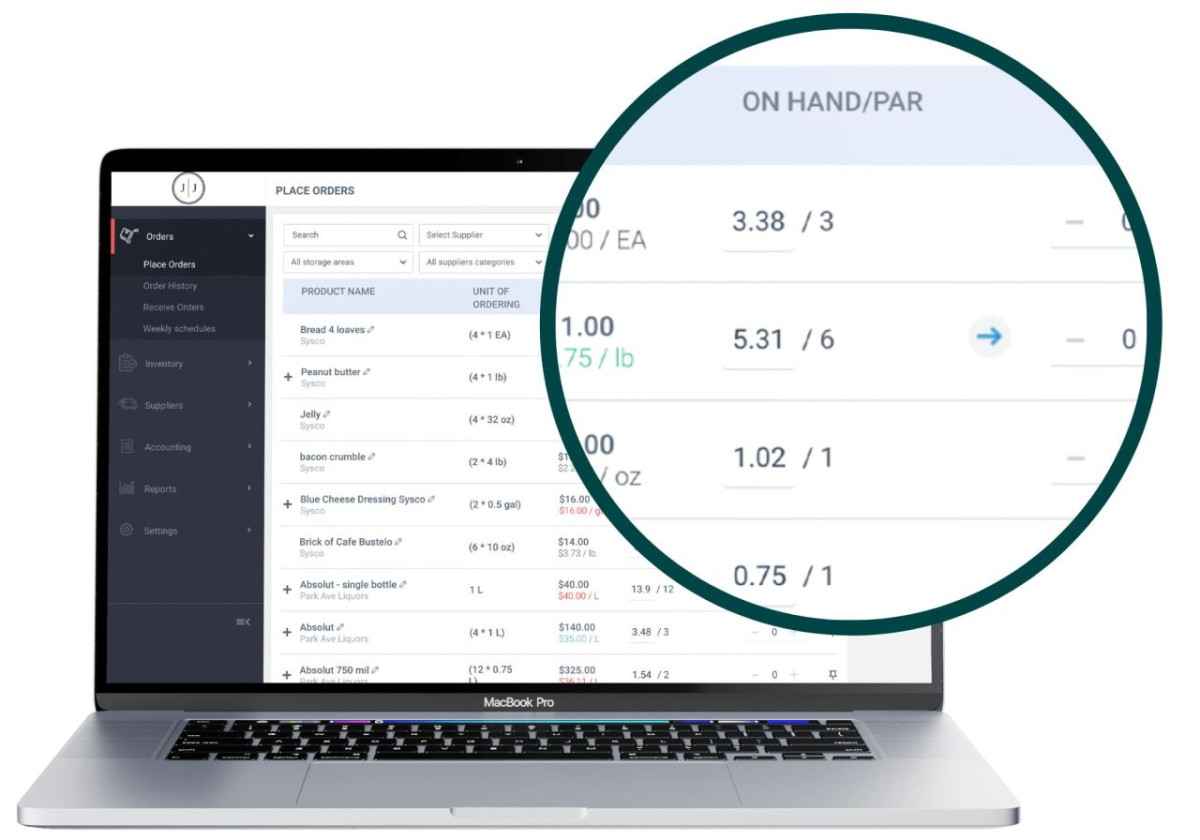 Market Man's billing software helps you manage transactions between all your vendors in one place, including submitting purchase orders and invoices. You can get a birds-eye view of food pricing and purchasing budgets and even check the status of your order. 
Best for: Supplier management. It integrates with POS systems, accounting software, and large food retailers. 
Pricing: Get a free demo on their website. The Operator plan starts at $180/month, the Professional plan is $250/month, and the Ultimate plan sits at $400/month. 
Review: "It's extremely helpful to have the ability to track costs of not only inventory items but also menu items by building recipes to see the exact breakdown of costs and profit margins."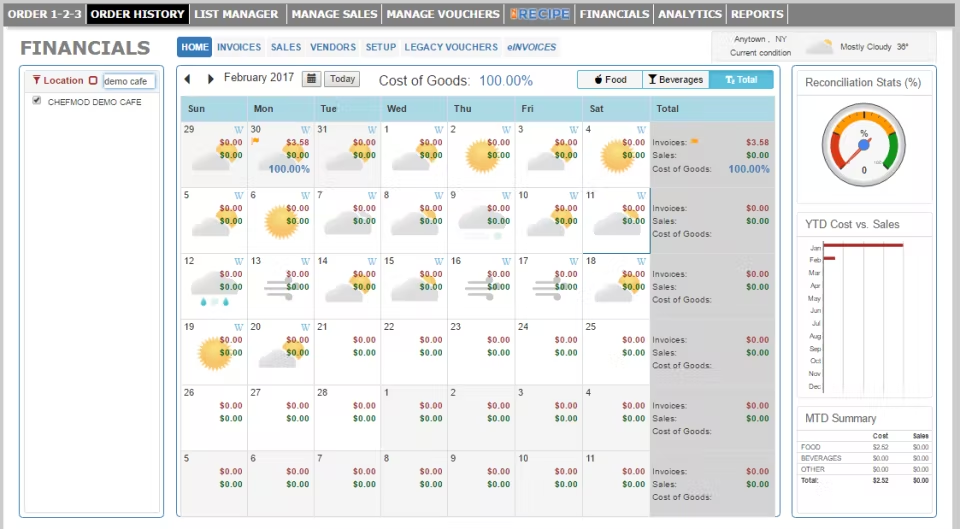 Chef Mod is designed for anyone who manages purchasing or restaurant costs at their establishment. Chef Mod's platform has a customized marketplace so your culinary teams can choose the items they need, and it offers a dashboard to help you monitor price lists, inventory lists, and approved invoices.
Best for: Bringing together the culinary and financial teams in your business to ensure satisfactory ordering for everyone. 
Pricing: Free demo, then it's by inquiry. 
Review: "My food costs went down tremendously since we started using this software and I am able to view all past, current and future orders with a couple of clicks at any workstation."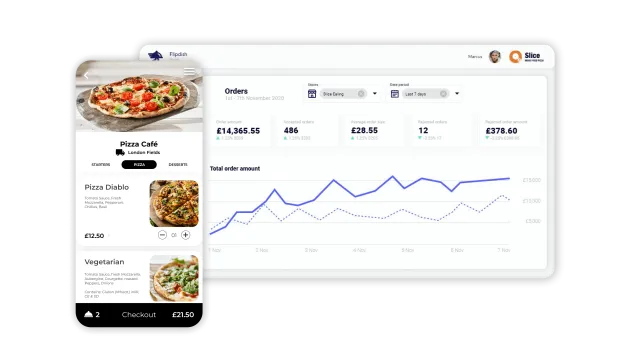 Flipdish's billing software centralizes customer data, ordering, loyalty schemes, and more in one hub. It offers multiple ordering options, including online, third-party, and in-store, so you have the visibility to grow your revenue across all streams. 
Best for: Setting up your own website or app to maximize online ordering. 
Pricing: By inquiry. 
Review: "With more and more of our customers looking to order for delivery and with the explosion of smartphone usage, we felt Flipdish was the perfect partner for us."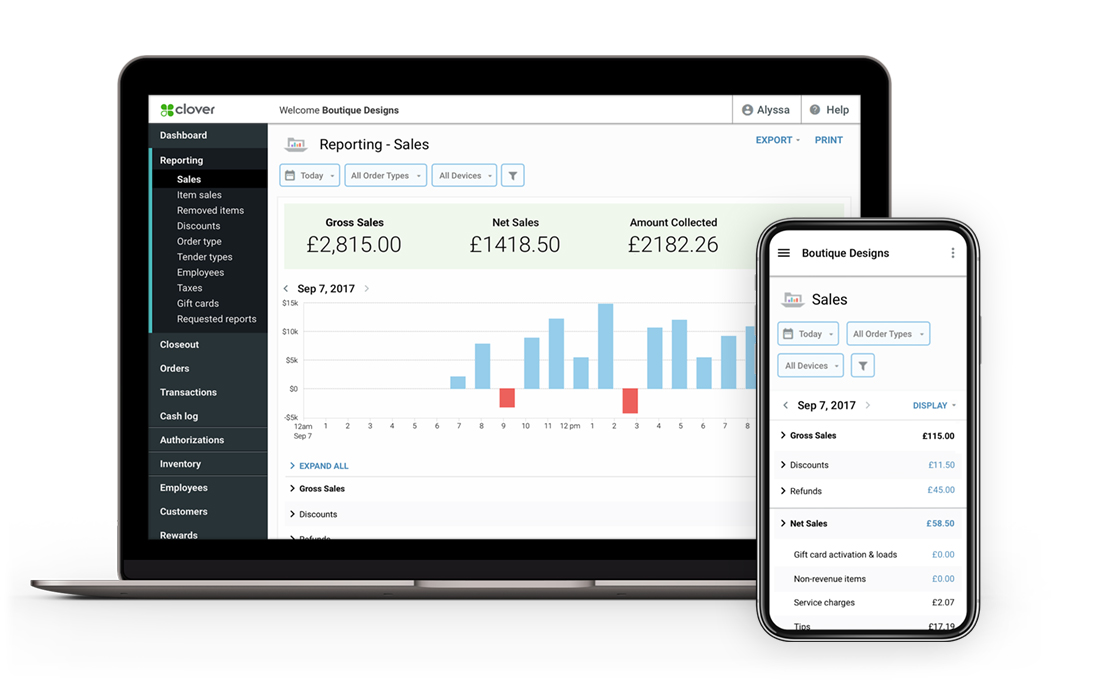 Clover kind of does it all, including billing software. You can track all your sales in real-time and view reports in the dashboard or app. Clover accepts multiple payment methods (including credit, debit, contactless, and mobile payments), so you can accommodate all your customers. 
Best for: Purchasing your whole product suite (including software and hardware) from one supplier. Clover also offers payment portals, kitchen accessories, and more. 
Pricing: By inquiry. 
Review: "The system offers a wide range of features, including inventory management, financial reporting, customer management, and integration with various payment processors."
Implementing the Right Software Can Help Grow Your Restaurant Business
The right billing software can help you to stay on top of your accounting and reporting; with complete transparency at a glance. For those who are hesitant to switch from your manual process – we're all guilty of saying, "If it ain't broke, don't fix it" – software is much less time-intensive and negates human error. 
As well as this, the continuing labor shortage will only slow your operations down further, so it's crucial to maximize automation to take the strain off your staff and serve more customers this year. 
You can apply automation technology to your business beyond financial processes, such as in the kitchen or at the drive thru. Auto, our conversational AI, takes over from your employees to greet your drive thru customers and take their orders, helping you remain efficient even during challenging and busy times. Upgrade your restaurant business today!