There are two types of QSRs: those who've spent time finding the right POS (point of sale) system to suit their needs and those who haven't. And it shows!
If you're in the latter category, it's time to take note. The global POS market is set to reach $18.1 billion by 2027, and this technology is as necessary for medium-sized businesses as it is for large, industry-dominating chains. 
When considering upgrading the way your customers pay, there's good and bad news. 
The bad news is that there are so many great POS solutions out there it can be difficult to choose the one that's right for you. 
The good news is that we've got your back. We'll be discussing the essential features every POS system must have, so you can feel prepared and informed when selecting the best one for you. 
What is a POS, and how has it become a key pillar of the restaurant industry?
A point-of-sale system is a device that processes customer transactions, such as a cash register, card machine, or an online store. It can be a piece of hardware or software that enables you to accept payments, print receipts, and track your inventory. 
Although a POS system sounds like a digital wonder, did you know it has roots back in 1879? In the era of the industrial revolution and the first ever lightbulb, an American store owner called James Ritty devised an ingenious idea to stop his employees from slipping his business' money into their back pockets.  
Fast forward to 1973,  and tech giant IBM captured the concept to develop the first computer-driven cash register. 
Following the invention and uptake of credit cards in the '80s, McDonald's introduced their own POS system in 1984. Suddenly, the modern QSR POS system became a reality. 
Nowadays, POS systems still have the same basic functionality as their 1800s counterparts, enabling restaurant owners to track customers' purchases. But these days, the technology is highly advanced and relies on cloud technology to give POS users visibility over their front and back-end operations.
What are the benefits of using a POS system?
The key to a streamlined QSR experience is to automate as many processes as possible, including retail and transaction operations. 
A POS system allows you to accept payments and do much more, including tracking sales patterns, revenue, and profit. 
You can use information to determine your peak busy times and the most popular items. Once this has been established, you'll find yourself spending less on the products that struggle to make it off the shelf, saving you money and preventing food waste.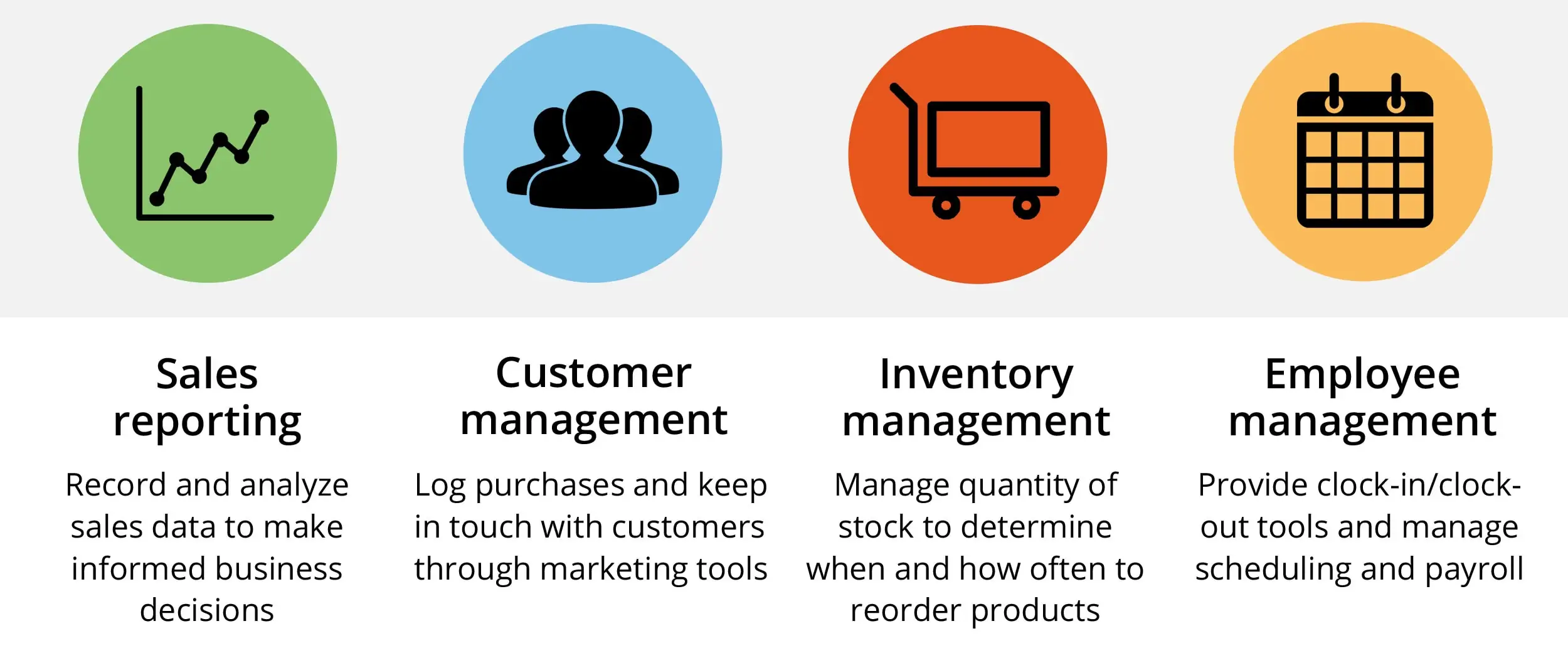 Another great benefit is being able to accurately monitor what's selling and what's not, meaning you can gather insights and tailor your marketing strategy according to your customer interests. 
Better insights into guest preferences open the door to more upsell opportunities. The best thing is that you can close all deals swiftly in your POS system, which acts as a central hub for all business activity.
What is the key POS hardware?
Every QSR is different, so your POS system needs to be flexible, scalable and tailored to your personal business needs. 
Here's the key hardware you need to look out for when selecting your ideal POS system…
Printer
While many companies now opt for digital email receipts, some customers are too busy to provide their email or simply prefer the old-school printed version. It's also key to track orders for the kitchen.
Card reader
Long gone are the days of cash being king. 58% of people in the US are more likely to use contactless payments now than before the pandemic.
Touchless interactions continue to be the preference for many guests, meaning that a card reader is a requirement for every QSR.
Barcode scanner
75.8 million smartphone users in America scanned a QR code in 2021, with 7 out of 10 restaurants implementing this technology.
Alongside barcode scanning, QR codes are essential to any modern QSR and can be integrated with your POS. 
Cash drawer
Despite the rise of contactless payments, cash usage is still up by 13% year-on-year in the US, so it's important that your restaurant accepts this payment method.
There will always be people who prefer to pay by cash, so being able to cater to everyone is important.
Customer display
To build trust and rapport with your guests, you must have a customer display for them to see the order and price. 
8 Essential features every POS for restaurants must have
Making sure your POS system has the relevant hardware crucial to a QSR is key, but there are some other features you should look out for and consider…
1. Inventory management
Inventory management was once about clipboards, pens, and mental mathematics. 
Nowadays, your POS system can handle inventory management for you, which helps you keep on top of food waste. 
This is especially relevant as over 30% of food in the US goes to landfills every year, meaning that QSRs are losing revenue through waste and missing out on inventory management accuracy. After all, every food item wasted is one that could've been sold. 
2. Staff management
The QSR industry is still short on 750,000 staff, and it is harder than ever to manage schedules when you're not sure if you'll have enough employees. 
Labor costs make up 30% of QSR costs, and an efficient POS system can help you maximize efficiency by giving you visibility over all staff timetables.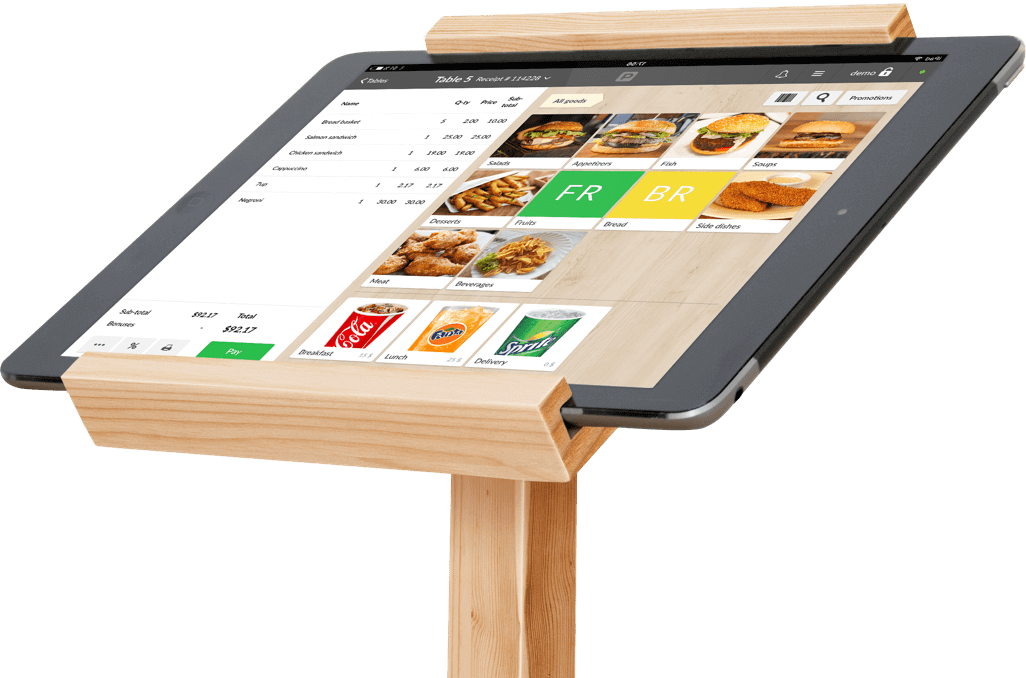 3. App integrations
Your POS system won't stand alone. Instead, it needs to be compatible with external apps that enable you to streamline and secure your operations by connecting various parts of your business, like accounting, booking, and food preparation. 
For example, you could integrate your accounting software with your POS so all processed transactions automatically show on the relevant accounts, revenue, and profit reports.
4. Customer profiles
Behaviorally targeted ads are twice as effective as non-targeted ads. 
How do you create personalized communications? By tracking customer personas. 
A POS system collates customer profiles by tracking your guests' sales history and behaviors so you know exactly what they like to eat and when they like to eat it. 
Monitoring customer insights is also beneficial for your marketing teams, as they can use IP tracking for location marketing and offer loyalty programs to regular customers. 
5. Reporting 
Visibility is your secret weapon when running a successful QSR. 
While it's vital that all teams have autonomy over their roles, from order-taking to food-making, it's also important that you have an overview of your entire business operations. 
A great POS system can provide insights into your most loyal customers, revenue per ticket, and employee wages, so you can control your spending and budgets. 
6. Communication with the Kitchen
The most important part of your QSR isn't the table layout, the marketing strategy, or the design of your digital menus. It's the food. 
Your customers keep coming back because you provide great burgers and fries, but it's no use if communication is slow in the kitchen.
By having a POS system that can send orders directly to the back when a purchase is made, you'll save a whole lot of time and make sure your food is good to go when your customers are.
7. The cloud
Cloud technology comes into play when you're looking to scale your business from okay to awesome. 
It's impossible to scale successfully and open new franchises without connecting each site for reporting, customer service, and quality assurance reasons. 
That's why many QSRs host their POS system in the cloud. It's a scalable solution that you can access anywhere at any time, so you'll always have visibility over the performance of all your sites.
8. Customer experience
Your customers are likely to spend 140% more after a positive experience. 
As the vendor, it's your job to make sure the customer experience you offer is streamlined, quick, and friendly – not just for financial reasons, but for customer satisfaction reasons too. 
A loyalty program is an effective way to reward guests for their loyalty and business, especially as it increases customer lifetime value by as much as 67%. Great for you and your diners.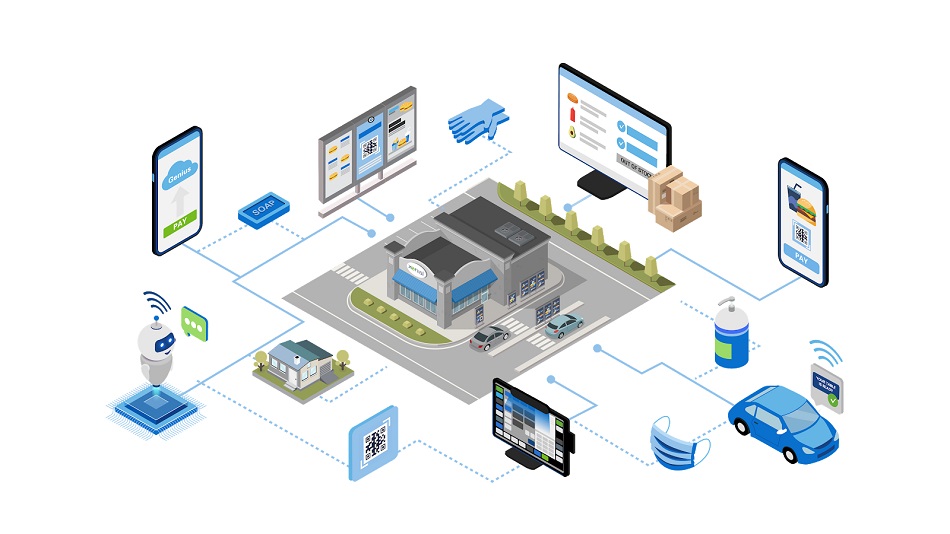 Deliver a consistent customer experience with Hi Auto
Choosing the right POS system for your QSR is like choosing the ratio of hot sauce to mayo – it requires a lot of consideration, experimentation, and research. But, unfortunately, you don't get to eat a tonne of burgers this time.
Instead, researching your POS system involves considering integration options, scalability in the cloud, reporting features, and more. 
From the cowboy days of 1879 to today's digital world, the concept of a POS system has remained the same. But there's a common denominator between all its adaptations and iterations – every fantastic POS keeps your restaurant running smoothly by providing better visibility over your operations. 
Integration features give you the power to tie all the steps in your customer journey together, from ordering to food preparation and follow-up marketing, so you can deliver an experience that's tasty, quick, and convenient overall. 
As this starts with the order-taking process, why not consider using a conversational AI solution that directly integrates with your POS, like Auto?
Say goodbye to "2 cheeseburgers, no cheese" notes and screams to the kitchen because Auto takes your orders and instantly sends them to your POS system, so your food prep team is ready to go.
Request a demo today to turn your QSRs cogs in unison.