What's the golden rule of hospitality?
'The customer is always right,' of course.
When 81% of diners say they'd rather speak to an automated food ordering system at the driveth-rough rather than a human, it's time to take note. 
Technology solutions like mobile ordering, digital menu boards, and contactless payments are already commonplace in the lanes. Still, AI is bringing the QSR industry into a new era of innovation, automation, and efficiency. 
In this post, we'll look at how AI is taking the drive-through by storm, why operators are investing in AI solutions and some successful use cases for this technology. 
What is an AI drive-through?
AI is older than you think, but it's only recently come into its golden age. The concept of artificial intelligence was first idealized in the 1950s by mathematician Alan Turing, and it went through various iterations of success throughout the 70s, 80s, and 90s. Fast forward to the present day, and the global AI market will be worth $60 billion in 2025. 
An AI drive-through means that drive-through processes, from order-taking to food-making, are optimized with digital technology to help QSRs deliver a faster, more consistent, and more efficient experience.
How does an AI drive-through work?
'Artificial intelligence' is a very broad umbrella term, and it encompasses a huge range of tools and technologies. For this reason, there's no one-size-fits-all way to digitize your QSR, but here is how other businesses are doing it.
Voice AI
Over 123 million people in the US already use voice assistants at least once a month, meaning that a large portion of the population is as familiar with chatting to a robot as they are with a human. 
McDonald's, Checkers and Rally's, and Lee's Famous Chicken Recipe are three of the leading QSRs revolutionizing voice AI at the drive-through – and finding success in their investments. Lee's has achieved a 95% accuracy rate since it introduced Auto to its lanes, and Checkers has already deployed Auto in 300 of its restaurants. 
McDonald's is rolling out IBM's voice AI solution slowly. Following the triumph of its pilot scheme in ten Chicago-based restaurants, the company is looking ahead at the possibility of rolling out conversational AI across the rest of its 14,000 locations.
Robots
Could a burger-flipping android really take over from R2D2 as the world's most famous robot? Okay, maybe not the most famous, but definitely the hardest working. QSRs can deploy robotics technology for repetitive tasks like food preparation, burger flipping, and even pizza delivery, which Domino's is currently testing.   
Despite what the Tin Man says in the Wizard of Oz, robots don't need a heart to function (harsh but true), meaning that robotics technology can work 27/4 and be used to automate up to 73% of food service activities. This is particularly useful in light of the ongoing labor crisis, as the fast food industry is still short of 462,000 jobs.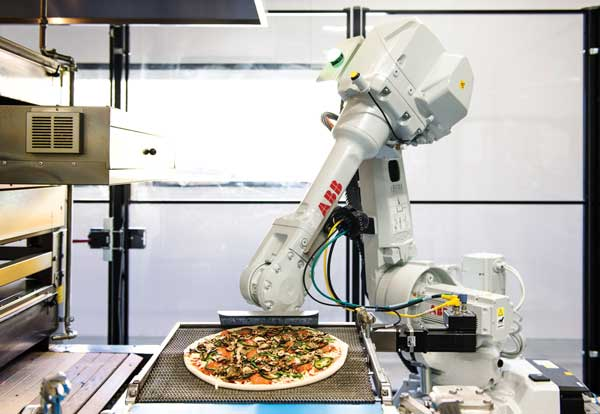 Detection
When you hear 'AI,' you likely think of codes, computers, and chatbots. But AI can also include sensors, which is exactly the type of technology that Amazon is harnessing for its new self-serve stores. 
Sensors on the turnstiles authenticate customers' smartphones, therefore allowing them to 'check in' to the store. There are also sensors on the shelves to monitor inventory management by keeping track of the pressure and weight of items. It's a completely AI-powered, humanless experience… for humans to enjoy. 
Why implement AI into the drive-through?
Although speed of service is a cornerstone for the food service industry, only 10% of QSRs manage to serve customers through their drive-through in under three minutes. How can the other 90% of operators reduce this time and keep impatient customers happy?
Unfortunately, labor efficiency isn't the answer. Due to problems such as lower immigration levels and high hiring costs, QSRs are struggling to get boots on the ground. Labor costs amount to over 30% of expenses in the quick service industry, and staff turnover can be as high as 130-150%. Rather than battling against the hiring crisis tsunami in the wake of economic turbulence, many businesses are bypassing it altogether and replacing their unavailable employees with investments in digital technology. 
AI goes one step further than just providing a much-needed helping hand. It delivers  more consistent customer service because AI can function successfully 24/7 without the influence of emotions and tiredness. But that doesn't mean that this tech lacks the human touch – conversational AI can boost upselling opportunities on 70% of orders, therefore providing a personalized, enjoyable customer experience that can increase the average ticket value. 
Plus, you won't isolate employees by integrating technology into the workplace – 61% say it boosts their productivity, and 68% hope their employer introduces more AI-based tech.
How the Industry is Changing
From the first ever drive-through in 1920s Texas to the ingenious technology of today, the buzz about burgers in a box has reigned supreme in American culture. Innovation has long driven the drive-through forward (excuse the pun) since In-N-Out invented a cutting-edge two-way speaker system in 1948. 
Covid-19 forced the food service industry to reinvent touchless interactions, and the drive-through was easy to adapt. As so much innovation has already taken place, where can we go from here?
AI will automate and optimize almost all restaurant departments, including food preparation robots in the kitchen, order-taking voice assistants, and digital menus to enable more marketing opportunities. Technology will also assist in linking all the processes together for better operational efficiency. For example, POS (point of sale) solutions now offer more than just transactional capabilities, and many include features like reporting, inventory management, and scheduling.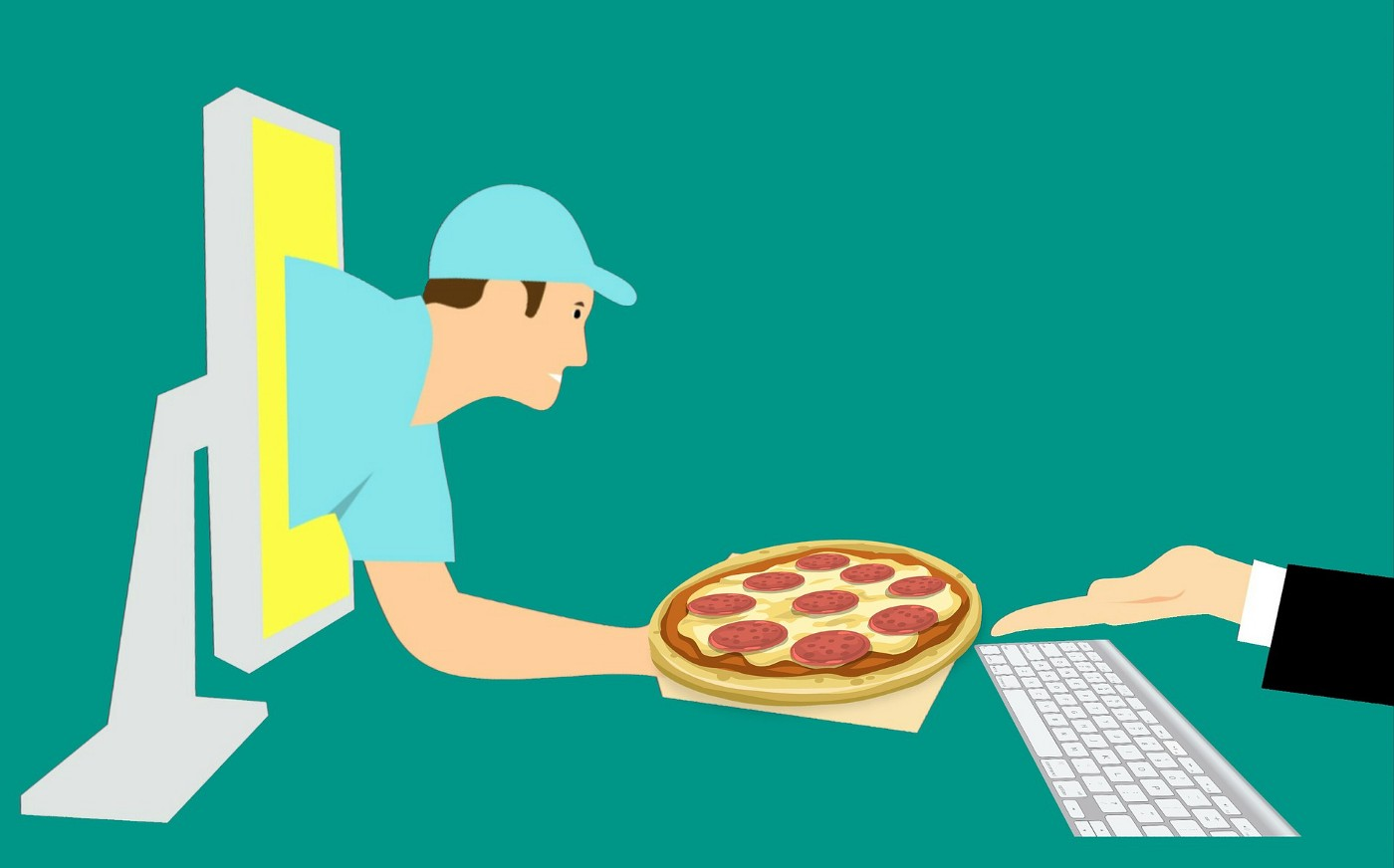 How to Spot an AI drive-through: 4 Things to Look Out For
Thanks to the rapid adoption of AI, many QSRs have already integrated technology into their drive-through. We're looking at how businesses have adopted AI and how you can draw inspiration from these use cases. 
1. A Personalized Experience
Let's keep in mind that technology isn't always in plain sight – it's also beneficial behind the scenes. QSR marketing teams and operators can use AI-powered data and analytics technology to track metrics like customer behaviors, preferences, and purchase history. Using these insights, it's possible to offer personalized customer experiences in the digital and physical worlds. 
For example, geofence location capture involves tracking customers within a certain distance of your business (e.g., 2 miles) and sending them personalized notifications to entice them into your restaurant. 
Additionally, loyalty programs are an effective way to send personalized discounts and offers to customers who download your app or scan your QR code. 
2. A Speedier Service
Order taking at the drive-through window might be the first point of contact between your QSR and your customer, which is important because it sets off a chain of events. If step one (order taking) is slow, it will delay food preparation and other processes that follow. 
One of the primary benefits of AI is that it is never distracted and can work 24/7, which means it can provide a consistent diner experience that is up to four times faster than human cashiers. 
3. More Accurate Order Taking
Inaccuracies make up 15% of all orders, and the numbers can climb higher if you're dealing with hundreds or even thousands of customers every day. Each wrong order means longer wait times, which won't please hungry diners.
Slow wait times are so frustrating that 70% of customers want to see more automation technology, such as AI assistants, to help speed things up. Conversational AI like Auto has a 94% accuracy rate so that you can reduce time in line. 
4. Less Waste
40 million tons of food goes to waste in the US every year, and 26% comes from food services, which impacts the environment as much as QSR's finances. The industry loses $162 billion yearly in food waste, but thankfully there is a huge opportunity for automation technology to assist in this area. 
AI collects customer behavior data, helping predict the most popular items and when inventory will run low. Integrating an order-taking AI solution with your POS system lets you centralize inventory ordering and stock management in real-time as your customers pass through the lanes. 
How to Level Up Your QSR with an AI drive-through
Technology investment in the QSR industry has raced forward over the past few years, perhaps more so than it would have done if digital interactions weren't so prominent during the pandemic. 
Suppose you spot a drive-through that's working as efficiently and quickly behind the scenes as it is from a customer service perspective. In that case, the likelihood is that the business in question uses some form of AI technology. 
While it seems like digital solutions surround QSR operators, there are still huge gaps in the competitive landscape. By investing in AI now, you'll put your QSR ahead of the game in 2023 in terms of speed, scalability, and order accuracy. 
That's where Auto steps in. Auto acts just like a human, only better. It can handle mid-sentence changes, accents, and over 40 complex menus, helping deliver the satisfactory customer experience that your diners expect.  Get started today.