Social media is packed with perfect shots of iconic restaurants around the world. Just think of the Giraffe Manor in Nairobi, which went viral as an 'Insta-worthy' location to enjoy breakfast with a side of wildlife.
Venues like this get shared, liked, and (most importantly) visited by people intrigued by the unique restaurant experience. From a marketing and brand awareness perspective, it's pretty genius, especially as 41% use social media to determine whether to visit a restaurant or not.
With costs rising and purse strings tightening, there's never been a more critical time to stand out in the highly competitive market.
Let's look at what a unique restaurant experience is, why it's beneficial, and 12 creative examples to inspire your next revamp.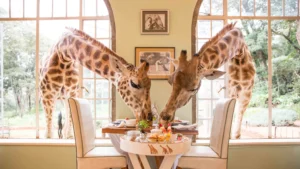 What is a unique restaurant experience?
Dreamy location? Robot servers? Spaceship themed? A unique restaurant experience can be anything that helps you distinguish your brand from the competition. Creating the right 'vibe' means getting creative with your interior design, menu choices, and branding. 
The secret to defining a unique restaurant experience is understanding your business, your customers, and what you can offer them. For example, if you run a premium establishment, you might consider introducing live entertainment and darker lighting for a relaxed mood. In contrast, a QSR is all about speed and accuracy, so new technology like digital menu boards and conversational AI helps curate a memorable customer experience.
What are the benefits of implementing a unique restaurant experience?
Yep, those crazy and outlandish restaurant design ideas can have a positive impact on your bottom line. Here's how.
Increased customer satisfaction:

Ever heard of a marketing technique called '

surprise and delight

'? Customers love to be surprised with a unique experience on top of speedy service and delicious food.

Attract new customers:

New customers might not bother choosing your QSR if it's too similar to their regular go-to. If you can offer something totally different, they will be more inclined to give your place a shot. 

Drive engagement on social media:

38% of

Gen Z

Brits would spend more at a restaurant that has gone viral, so encouraging customers to post a quick pic of their meal is fantastic free advertising.

Boost customer loyalty:

A unique restaurant experience will be hard to forget, which increases brand awareness and helps keep customers coming back.

Stand out from the crowd:

The QSR market is extremely saturated. Sometimes, great food isn't enough to help you stand out from the crowd – you need a buzz-worthy theme or unique decor too.
12 Examples of Restaurants with a Unique Restaurant Experience
Take inspiration from these weird, wonderful, and ultra-creative restaurant concepts to elevate your own QSR experience. Let's dig in. 

San Francisco-based restaurant serving up Polynesian-fusion cuisine with a side of… rain! Guests are seated around a central lagoon (aka., An indoor swimming pool) and treated to live music while surrounded by rain, thunder, and lightning effects. Pretty unique, right? You can also book the Tonga All Night package for a guaranteed table reservation and a room at the Fairmont Hotel, helping create an air of exclusivity that often benefits restaurants.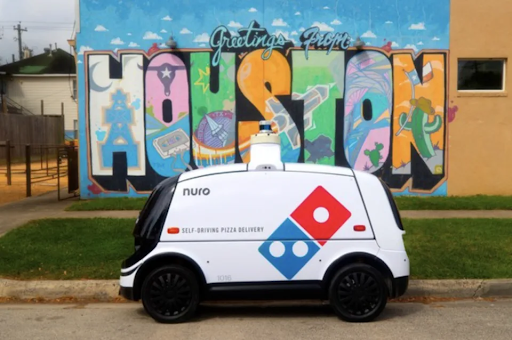 Everyone's had a Domino's delivered, but have you had a Domino's delivered by a robot? The pizza chain is staying ahead of the curve with the launch of its autonomous pizza delivery vehicle, R2, made by Nuro. The bot has been approved for road usage by the US Department of Transportation, and it's currently in the pilot stage in the Woodland Heights neighborhood of Houston. You will be able to select the robot option for a unique delivery experience that proves Domino's is keeping up with restaurant automation trends.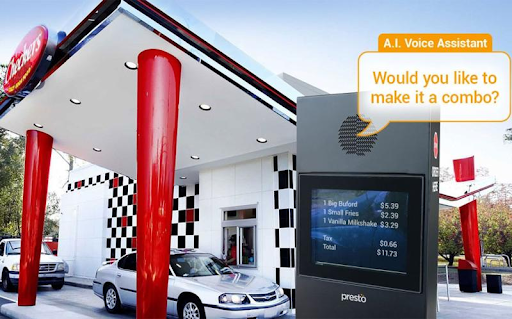 QSR chain Checkers and Rally's is revamping the drive-thru experience to meet the expectations of modern customers by partnering with Hi Auto. 
Diners will be greeted at the drive thru by conversational AI which will accurately take their order and send it directly to the POS system, helping improve speed, efficiency, and customer satisfaction. 
Checkers and Rally's have rolled out Auto in over 350 stores and the solution's easy integration means voice ordering AI is now an accessible option for future-focused QSRs. The restaurant chain is ahead of the competition, as they're the only brand to be adopting conversation AI at such a scale.

Domino's isn't the only popular chain investing in a high-tech restaurant experience for its customers. Chick-fil-A has partnered with Refraction AI to develop a self-driving delivery robot with 90% lower carbon emissions than traditional vehicles, helping the QSR appeal to the increasingly eco-conscious market. It's called the Kiwibot, and it is equipped with sensors to detect objects in its path to ensure the safe and efficient delivery of your QSR order.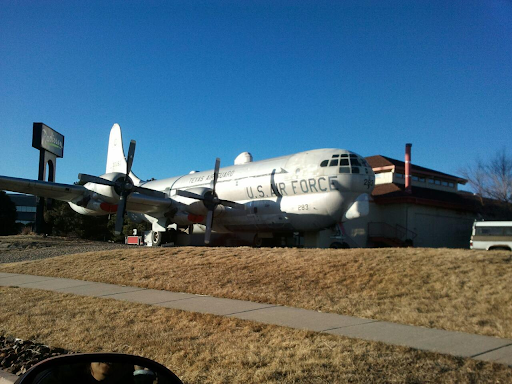 Ever wanted to dine in a Boeing KC-97 tanker? Now's your chance. The Airplane Restaurant in Colorado Springs is the perfect QSR experience for aviation lovers, as it's packed with memorabilia and pictures that tell the story of the aircraft since its construction in 1953. Customers can enjoy a selection of classic fast food items like cheese sticks and nachos and high-quality options like honey BBQ salmon and T-bone. Choosing a niche is often a great strategy for securing a loyal customer base.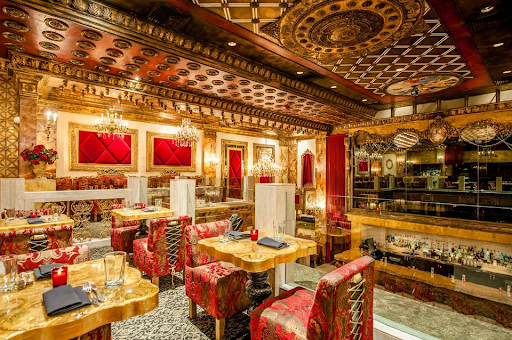 Located in Washington, DC, SAX serves up New American cuisine and cocktails in an opulent atmosphere. To top it off, SAX hosts unique live entertainment, including DJs, professional dancers, fire artists, and aerialists. Unusually, this venue opens between 11 pm and 3 am, so it is designed to be a late-night premium dining experience. While most diners choose QSRs for budget-friendly options, offering premium menu items or limited edition products can help you elevate your brand image.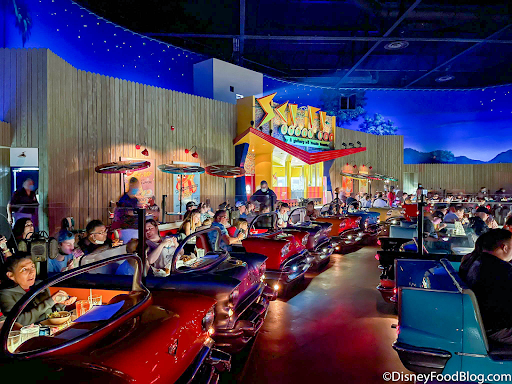 Rewind to the 1950s with Disney's quirky all-American restaurant experience. You'll sit in a classic car while enjoying fast food favorites like buffalo chicken and burgers. Plus, over 21s can sample themed cocktails (e.g., the 'Orbiting Oreo'). While eating, you'll watch exciting sci-fi scenes on the big screen. This place gets booked up quickly, and reservations are essential. Kid-friendly and family-oriented QSRs like this restaurant are often big winners – and big earners.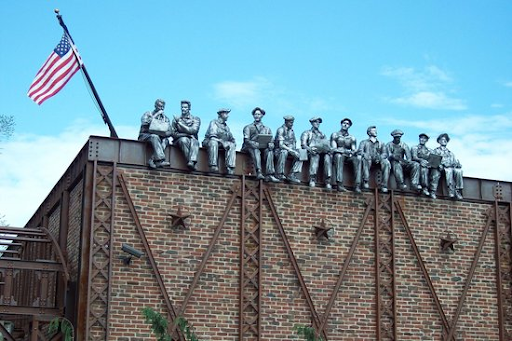 In Valparaiso in Indiana, guests can learn about American history while eating at Industrial Revolution Eatery & Grille. It's an 'inspiring' experience that provides comfort food (think pizzas and pie) while guests sit inside a bold steel-and-brick structure reminiscent of days gone by. There's also a train that runs above your head! While a left-field theme isn't a guaranteed success story, it can be attractive to tourists and diners looking for something different.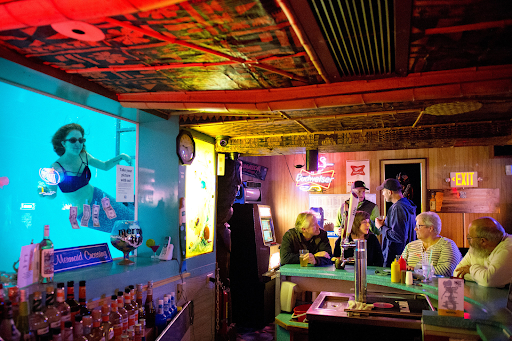 It's first come, first served at the Sip n' Dip Lounge, where there is jazzy live music on the weekends and even mermaids swimming in a tank every night. In fact, the mermaids saved this place – after revenue declined in the 1990s, the owners introduced these fin-adorned friends, resulting in its ongoing booming popularity. You can find this tiki bar in Great Falls, Montana, inside the O'Haire Motor Inn. There's nothing wrong with a good gimmick – especially if it works!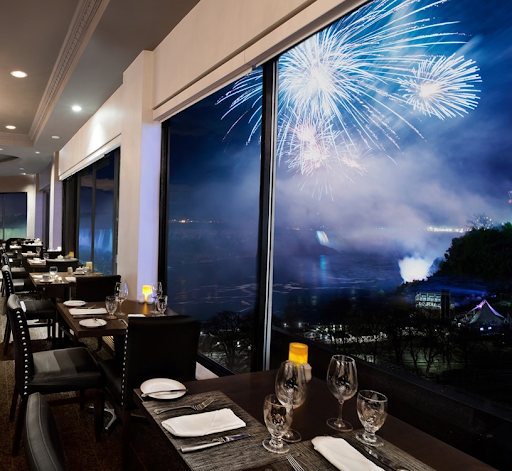 If your QSR is in a great location (like inside a beautiful building or next to an iconic landmark), why not maximize the opportunity to incorporate your surroundings? Prime Steakhouse enhances the dining experience by treating guests to stunning views of Niagara Falls through floor-to-ceiling windows. Located inside the luxury Crowne Plaza with a top chef at its helm, Prime Steakhouse is an excellent example of how to boost your marketing by working with the world around you.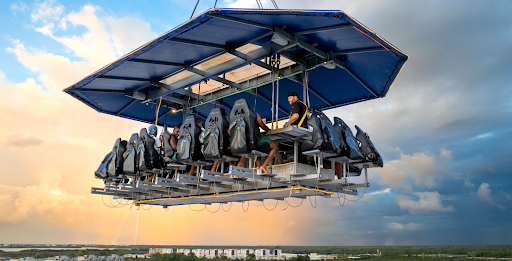 Diners can strap in and enjoy a feast amongst the clouds with the Dinner in the Sky experience. It's interesting to see how the Dinner in the Sky franchise has expanded to countries worldwide and now offers movies, weddings, concerts, and more. Capitalizing on the adrenaline-junkie trend might seem unusual, but there is clearly a market out there for original concepts.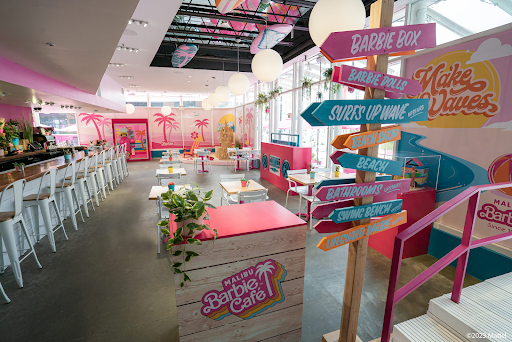 The hype surrounding the July 2023 release of the new Barbie movie means Mattel's doll is no longer just a kid's toy. The worlds of fashion, architecture, food, and more are turning pink to make their customers wink, and your QSR can take inspiration from pop culture moments too. The Malibu Barbie Cafe features retro 1970s decor, movie-inspired food, and photo opportunities to encourage customers to promote the venue widely on social media.
A Tech-focused Experience is 'In' Right Now
One customer experience trend won't be going away any time soon – technology investment. In many cases, tech like AI is the foundation of many QSRs' remodeling and redesigns as businesses seek to enhance speed, efficiency, and accuracy to please diners.
In the list above, we saw that our voice order taking solution, Auto, is helping Checkers and Rally's to deliver a memorable drive-thru experience on a large scale. Other businesses like Lee's Famous Chicken Recipe are successfully following suit, helping Auto take the top spot with solutions in 10x more stores than anyone else. 
Make sure your guests remember your drive-thru ordering experience for all the right reasons with Auto. Get started with the ultimate QSR experience today.