So, you've got a great menu with delicious food options…but now what? If diners don't know about your QSR, how can you turn them into customers?
That's where marketing tools come in to help your business reach more customers and curate your brand image. And marketing has become more important than ever to stand out from the crowd or prevent your business from being left behind. 37% of diners use social media sites like Facebook, TikTok, or Instagram to find new dining options. Restaurant-goers are also said to spend more at venues that will 'look good on the gram.'
While social media marketing is an incredible restaurant marketing tool for getting noticed and reaching a new audience, there are many other marketing styles and tools to sink your teeth into.
Let's look at what restaurant marketing is, its benefits, key features of restaurant marketing tools, and our top fifteen picks to help you achieve higher sales through marketing. 
What are restaurant marketing tools?
'Marketing tools' is a pretty broad term. In most cases, you will use multiple tools together to reach more customers across different channels. It refers to anything you can use to promote your QSR, including:
Social media

(organic posts, paid social, user-generated content, and influencer marketing)

Email

(promotions and newsletters)

Blogs (useful for search engine optimization [SEO] for web ranking)
Billboards

(and other printed ads, such as in magazines)

TV adverts

(this is a classic and tried and true method)

In-App advertising

(Similar to the above, but ads are displayed while your target audience are scrolling through their

daily apps and platforms

)

Events

(

e.g.,

pop-up shops, workshops, and tasting events)

Merchandise

(mugs, caps, and t-shirts with your printed logo)
The impact of effective restaurant marketing tools
Reach new customers:

Expand into new markets and attract more sales by using marketing to keep your QSR at the front of your customers' minds.  
Stand out in the crowd:

The restaurant industry is extremely competitive. Marketing helps you prove your value and quality to entice new diners. 
Boost diner retention:

Personalized loyalty campaigns can keep your current diners happy and coming back for more.
Facts to consider when choosing a new marketing tool
Each marketing tool should enable you to fulfill your objectives, reach your target audience and be cost-effective while producing a return on investment.
Integration options:

It's essential that restaurant marketing tools

integrate with your POS

, bank, and one another for accurate reporting.
Automation:

A marketing tool should simplify your employees' lives by automating everyday marketing tasks at scale. 
Analytics:

You'll need visibility over the tool's performance to check it delivers ROI.
Reputation and reviews

: Reviews will show where the tool succeeds most, how others use it, and any problem areas.

This can help decipher whether it's compatible with your business.

User interface and ease of use:

When the whole team needs to use the tool, it must be simple and easy to pick up so you don't have to invest in continuous training.

Support and training

: However, when you first begin your journey with a new software or service, it's important that support is available should you need it.
Top 15 Restaurant Marketing Tools
Ready to integrate innovative technology into your QSR to assist your marketing efforts? Get started with these 15 useful tools.
Online reservation and ordering taking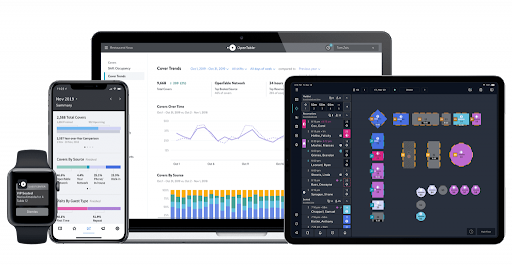 Diners can easily book a spot at your QSR using OpenTable. It enables you to manage seatings, bookings, and events in one digital platform so that you can turn walk-in guests into regulars. You can create a custom profile, which is great for curating a consistent brand image.
Since its inception, OpenTable has seated more than 2 billion diners via online registrations. As a leader in the market, the increased visibility of using this software is substantial. When you list your restaurant on this app, new customers can discover your business through the platform – and remember, every time they run marketing campaigns; your business will benefit too.
In terms of features, the analytics and reporting tool is valuable for businesses worldwide. It helps with understanding customer behavior, reservation patterns, and dining trends. This information lets you make better-informed inventory, staffing, and menu planning decisions.  Offerings can also be tailored to exactly what your customers are looking for.
Best for: Helping you access a huge network of OpenTable users as they operate in 20 countries with 31 million diners seated each month.
Review: "The process of integrating OpenTable was easy and they had great tutorials to help our team understand the system."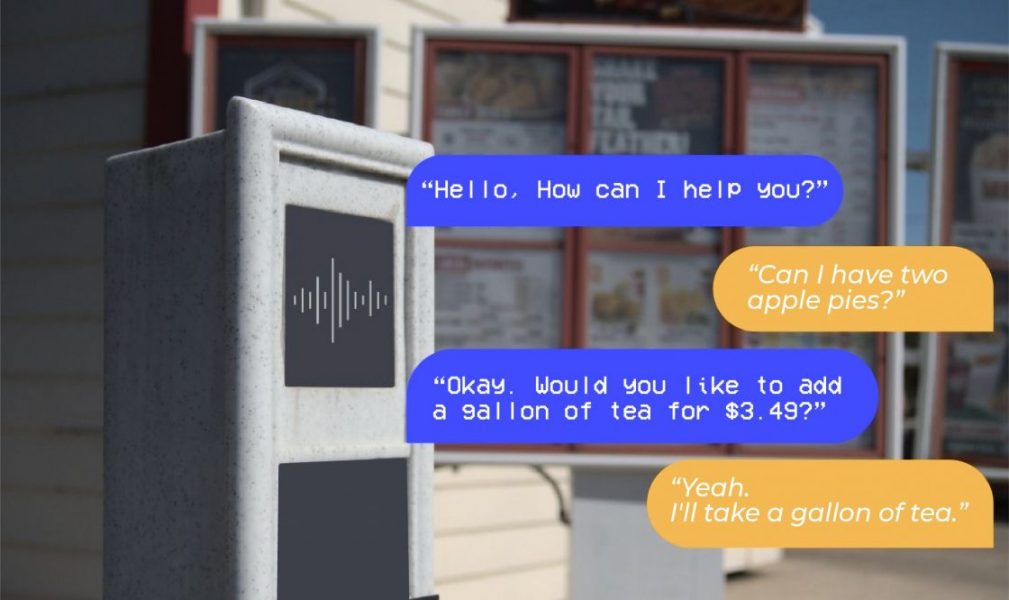 Looking to conquer two birds with one stone? Hi Auto allows you to take a hold of your marketing when speaking directly with the customer, all while fulfilling the ordering side of a drive-thru in a smooth fashion.
Auto is a conversational AI solution that is primed for QSR and drive-thru ordering, but it doesn't end there. Everyone knows that the most meaningful interaction for a business is when the customer visits the store. Well, with Auto, you can control the customer experience and make this consistent across all branches.
Auto will upsell directly at the drive thru which alerts customers to new marketing offers and additions to the menu, all while boosting your sales. There's no forgetting either, unlike when you have an overstretched team of employees with a high turnover.
Best for: QSRs or drive-thru restaurants that want to increase efficiency, boost sales and be ahead of the competition. It's also particularly beneficial for smaller teams or businesses experiencing high employee turnover, as Auto never misses a beat and is always there when you need a 'team member' doing the ordering.
Review: "The automated AI drive-thru has impacted my business in a simple way. We don't have customers waiting anymore. 
"We greet them as soon as they get to the board and the order is taken correctly. It's amazing to see the level of accuracy with the voice recognition technology, which helps speed up service. It can even suggest additional items based on the order, which helps us increase our sales. If a person is running the drive-thru, they may suggest a sale in one out of 20 orders."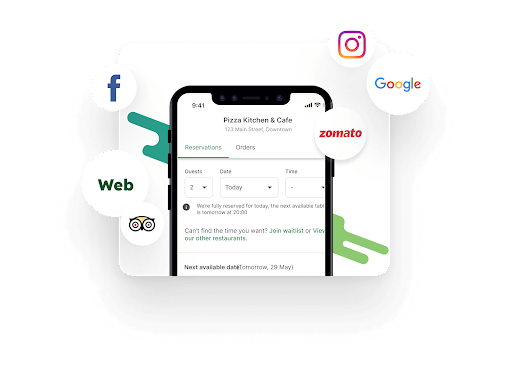 EatApp is your 'digital front door,' allowing diners to easily book reservations through Instagram, Google, and your website. You can host guest surveys and customer feedback (awesome for marketing!) and run automated email campaigns in the app. 
While they're a slightly newer tool, due to being founded in 2015, they're powering the future of dining for operators globally. In 2022, they raised $11 billion during their series B round, which will assist with their rapid acceleration in the market.
The primary purpose of EatApp is for customers or staff to book tables through various platforms. The input filters include everything you need to know to successfully ensure a diner is catered for – including the status of the reservation (e.g., when a customer requests the bill), the wait time, time of the reservation, party size, duration of the booking and a space to add further comments.
The reservation status is a handy tool for keeping everyone on track and on the same page throughout the customer's journey.
Best for: Gathering customer feedback efficiently and gaining a clear insight into the customer journey.
Review: "It's been great for our business to make it more convenient for our customers to make reservations with us."
Email marketing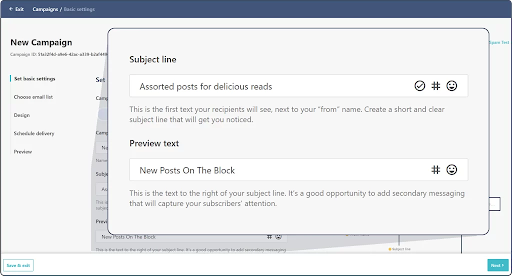 Moosend's automated email marketing platform helps your QSR get set up without any coding knowledge. It's an excellent tool for delivering personalized content to your customers, and the drag-and-drop functionality makes it easy to design professional-looking emails.
Further features include subject line A/B testing, content A/B testing, countdown timers, list segmentation, AI subject line optimizer, holistic reporting, website activity tracker, visual workflow builder, pre-made automation templates, and user action tracking.
Another benefit is the 24/7 customer support. Alongside the extensive knowledge base and video tutorials that provide step-by-step guides, you can connect with experts instantly through live chat or email.
Best for: Beginner email marketers who will benefit from ready-to-use templates and support.
Review: "Marketers find email automation incredibly helpful, and Moosend offers a wide range of ready-made templates to choose from."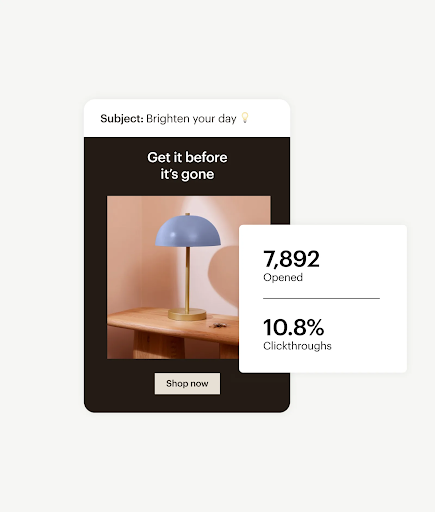 With MailChimp's marketing automation software, you can create personalized email campaigns, and conversion flows or choose from the suite of pre-built journeys. Similarly to Moosend, it also uses simple drag-and-drop functionality.
MailChimp, however, has been around for some time (2001) and has developed a dedicated customer base of more than 12 million users. They offer solutions across emails, websites, social media marketing, audience management, marketing automation, templates, reporting and analytics, and content creation.
They boast an ROI of up to 39x on average – showing why they're a go-to for various businesses worldwide.
Best for: The analytics features are granular enough for experienced marketers yet easy for newbies to understand, making tracking performance, optimizing campaigns, and creating more engaging messaging effortless.
Review: "I love that MailChimp is easy to use. The drag-and-drop blocks are very handy, and make it simple to learn. MailChimp also integrates with our database software."
Online review management tools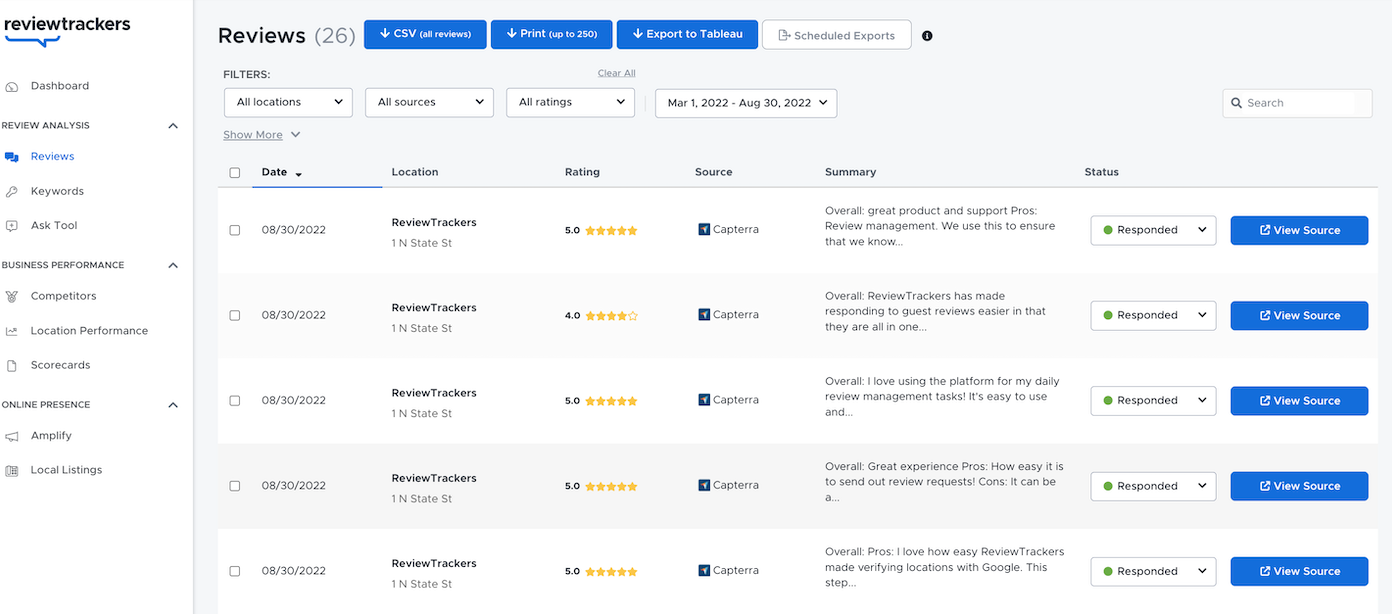 Amplify your customers' voices by using a feedback platform like ReviewTrackers. You can use customer experience analytics to monitor your brand's online presence and respond to all reviews in one unified platform. It has smart AI features like automatic categorization, which organizes feedback according to trends and sentiments. 
While the tech is intelligent, ReviewTrackers has made usability easy and simple, so you can get cracking with understanding your customers better and finding insights that'll move your business forward.
When you require feedback, you can request reviews from customers via ReviewTrackers. This will help you to build local search visibility (great for SEO) and acquire more customers if they like what they see…or read.
If you're a fan of a tech stack, ReviewTrackers data can be integrated with over 1000 apps via Zapier. This will help you to streamline business processes, automate workflows and increase flexibility and productivity.
Best for: Tracking your performance across all review sites with the Reputation Scorecard feature.
Review: "It's also great that it allows you to respond to reviews through the platform and offers excellent competitor analysis tools."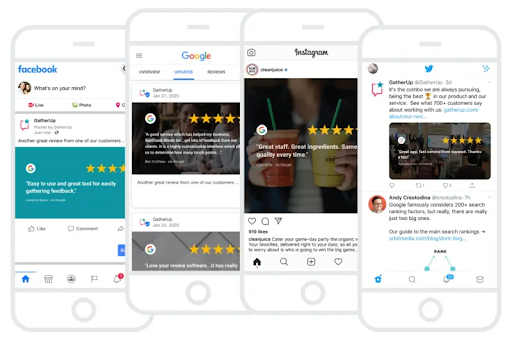 GatherUp is a platform that gathers all your diner reviews in one place and integrates with over 100 review sites. The social sharing feature lets you share feedback directly to Google, Instagram, and more directly from the GatherUp app.
The company uses a responsive design, so the app can work across iPhones, Android, PC, Macs, tablets, iPads, and more.
GatherUp can work seamlessly with the omnichannel management feature for restaurant operators with multiple locations.
Best for: Improving SEO as the review widget streams valuable reviews to the restaurant location pages to populate them with unique content, keywords, and structured reviews. This will help your restaurant appear higher in Google searches, increasing brand awareness and visibility. 
Review: "The software is easy to use for our store locations with very little training and is very intuitive. Not only has it helped to see what we're doing right as a business but where we can improve."
Social media management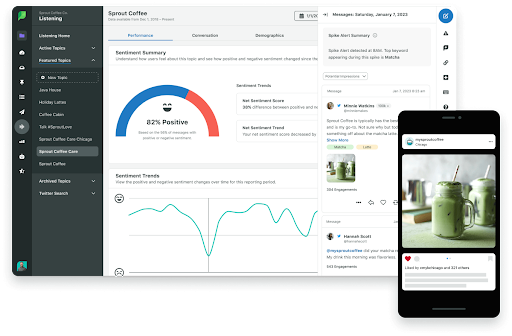 Sprout Social is designed to assist you in launching social media campaigns at scale. It integrates with many other platforms to keep your brand voice consistent and has a built-in content calendar for scheduling posts.
With numerous awards, Sprout Social has become a worldwide company with offices in Dublin, Seattle, and Chicago. 
And as new social media platforms have become popular, Sprout Social has adapted to provide solutions across numerous apps, including Twitter, Pinterest, Instagram, YouTube, LinkedIn, TikTok, Facebook, and even WhatsApp. 
There's no need to laboriously sign in and out of several websites or apps, as you can access it all from one place. This will save you time, provide accuracy and help you to establish a more cohesive and collaborative social media marketing strategy.
Best for: The analytics capabilities help you understand how social media connects with your audience and where it can be improved.
Review: "When publishing, I love that it is unique to each platform I am posting to, so I know if an image is the wrong size or if I am posting at the ideal time of day."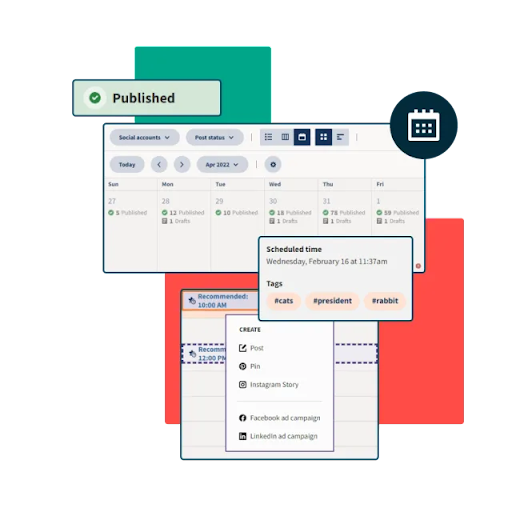 Hootsuite helps you map out campaigns, schedule content, and collaborate on project approval. It's easy for employees to set up automation and stay organized with your QSR's social media at scale.
As well as the ability to plan and send out content, you can set up customizable streams to stay on top of trends, your business, customers, competitors, and any other topic you're curious about. This will give a clear insight into what your customers are saying, helping you plan your business better as you can understand your audience and their interests more clearly.
Best for: Planning and executing large-scale campaigns with hundreds of monthly posts.
Review: "Hootsuite is an intuitive, user-friendly social scheduling platform. I am on the platform daily, looking at data, scheduling posts, responding to messages, etc."
Loyalty program software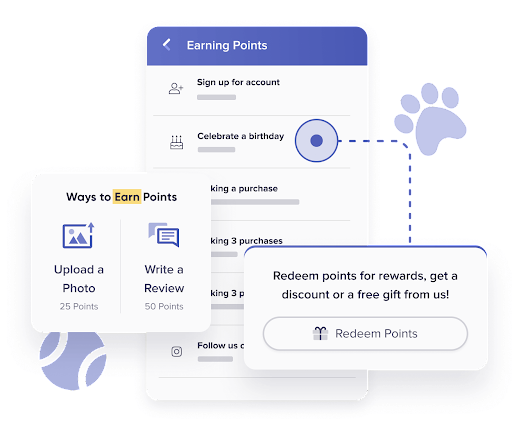 Setting up a restaurant loyalty program is tricky, but Stamped's AI-powered solution makes it more accessible. You can customize your loyalty program with your brand logo and images, share it across channels, and add rewards.
With Stamped, your best customers will be rewarded. You can set up tiers, customize landing pages and even create a referral program to acquire new customers. Another incredible benefit of the platform is you can incentivize customers with points and rewards to provide user-generated content. With this, you can gain content for your social media from the customers that know you best – it's a win-win situation for all involved.
Best for: Creating a tiered loyalty program, e.g., VIP perks, to help build retention.
Review: "It comes with a tonne of features; NPS scoring, reviews, loyalty programs, referral programs, and customer content aggregation."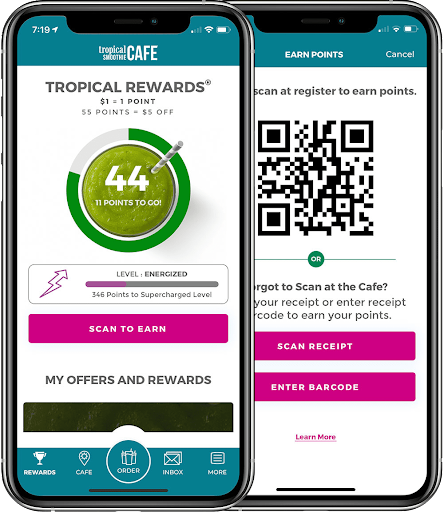 Punchh's loyalty program software gathers customer data and provides automated marketing alerts, prompts, and promotions based on recent orders and spending. It's designed to drive repeat orders and guest loyalty at the counter, online, and even past the drive-thru window.
They offer personalized hyper-local promotions and marketing controls for franchises, whether you have fifty units or five hundred. Automation allows for behavior-triggered loyalty campaigns, which can retain customers while driving interest from new people.
Best for: Running loyalty campaigns based on guest behavior data. This means more refined information about your target audience, which can be used to create incentives that they truly care about.
Review: "I like the variety of options that Punchh allows users to have, you can send emails, track customers, and see insights about what your customers do all from one platform."
Online ordering system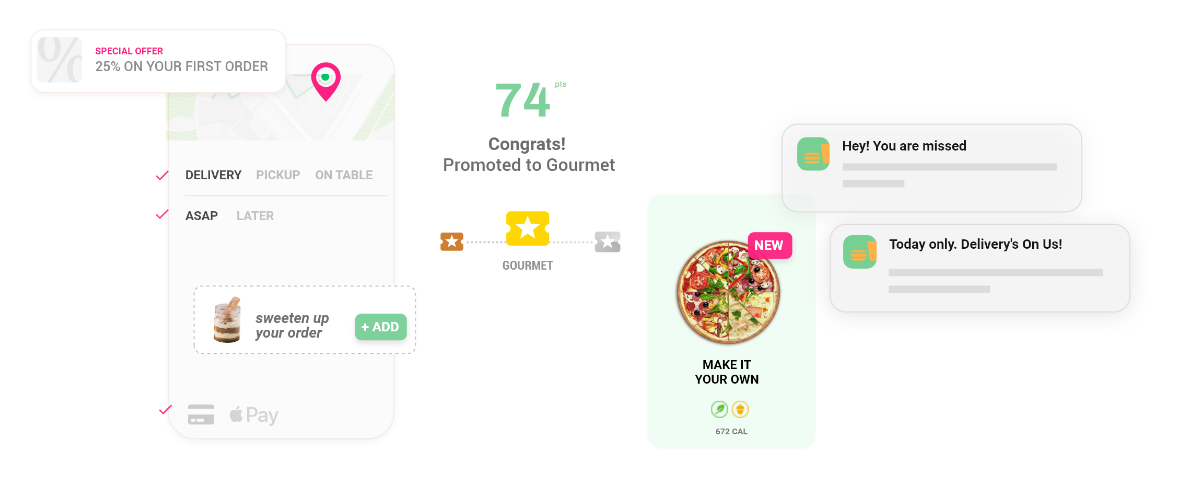 Weevi is an online ordering system that integrates with POS, delivery providers, social channels, and more to allow your customers to order via multiple channels.
You can also sell via social media pages, your app, website, and more – making managing orders as easy as possible. The orders can be synced with stock levels so you can understand and plan your inventory better, which saves you money and prevents food waste.
This will then be visible in the advanced report capabilities, showing operation performance, product performance, drivers/agents performance, Google Firebase reports, Google Analytics, FB reports, and feedback.
Best for: Integrations with third-party apps, which helps you bypass their commissions and save money. 
Review: "The in-restaurant table ordering feature has been a huge hit with our customers, making the ordering process so convenient and touch-free."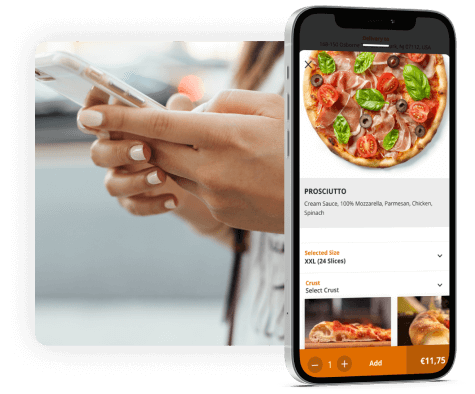 With Fimbles order management system, you can unify all orders across the web, mobile, POS, kiosk, and more channels. You'll get visibility into delayed and on-hold orders in real-time for fast remediation.
Fimble does 126,000 daily orders and has 38 million happy customers in 44 countries and 5600 restaurants. Customers include some of the big dogs in the quick service industry, like Domino's, KFC and Goody's – all praising the system in case studies.
Best for: The smart filtering feature automatically puts orders on hold that don't meet your QSR's criteria, helping minimize fraud. 
Review: "We needed a cost-effective way to efficiently manage the online ordering and mobile apps for 60+ stores and with no order commission."
Analytics and Reporting

Oracle's customer relationship management (CRM) collects data across all order touchpoints (e.g., self-serve kiosks and POS terminals). It provides detailed analytics for all the metrics you need, including delivery times, kitchen performance, and revenue.
This multinational computer technology corporation now serves customers in 180 countries, with 25,000 transactions processed per minute, amounting to more than $150 billion in transactions per year.
They're real industry leaders and have tech solutions for a range of industries and services used worldwide.
Best for: Real-time alerting and reporting sent directly to your device, so you can be aware of any issues as and when they arise. In turn, this will improve customer and team relationships as you'll be able to respond quicker.
Review: "It is a whole suite of software including gift & loyalty, reporting & analytics, and it has APIs for integration."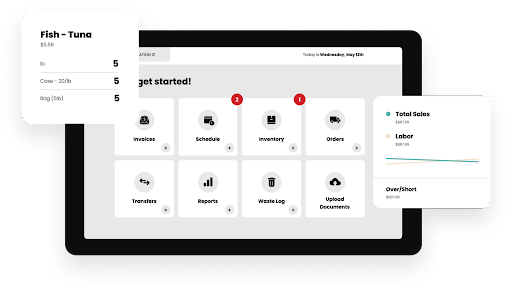 With Restaurant365, you can view reporting and analytics on your accounts and store operations. It pulls data from banks, suppliers, and your POS, then automatically creates daily reports to save you time and effort.
Unlike Oracle, Restaurant365 purely focuses on restaurant enterprise management software. This could mean that the features are more tailored than others, as they're specifically honed in on the needs of restaurateurs. 
And while they're smaller in size, they've just announced a $135 million funding round which is being co-led by global investment firms KKR and L Catterton. This funding could result in further improvements, marketing, and tailoring.
Best for: Controlling granular costs like inventory, labor, and scheduling. 
Review: "It pulls all the details from the POS for an in-depth view. It's also an excellent all-in accounting, inventory, and scheduling software."
Mobile apps and push notifications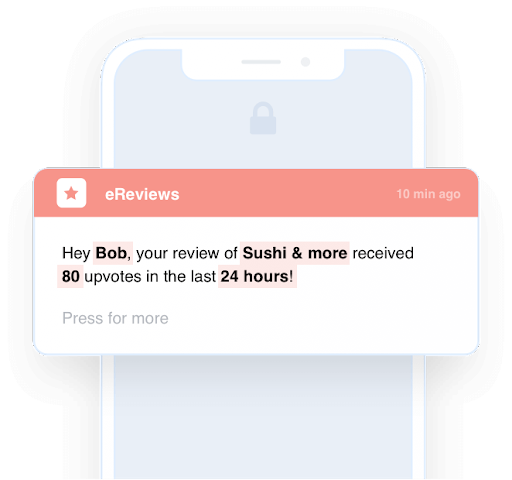 Building your own mobile app is a smart strategy to engage your diners. CleverTap makes this a reality. You can add images, video, and audio to create fun and interactive experiences for your diners and use geo-tracking to target customers in your area.
This can include reminders to new users, target user drop-offs (show customers what they're missing out on by not using your app,) booking reminder messages, and re-engaging lapsers with deals and promos.
Interaction and personalization will make your customers feel heard and instill loyalty as they'll feel connected to the brand.
Best for: Running personalized engagement campaigns through push notifications. 
Review: "CleverTap offers many features, including push notifications, in-app messaging, email marketing, user segmentation, and analytics."
Enhance the customer experience with the right tools
As your QSR matures in your marketing journey, you'll likely end up with a suite of tools to automate, plan, and launch your campaigns. Restaurant automation doesn't stop at marketing though – you can integrate ordering systems like Auto to take the pressure off your customer-facing staff. This is hugely valuable for marketing too, as Auto can upsell at all times. 
Our conversational AI solution, Auto, can seamlessly integrate within your existing team as it boosts efficiency and is able to take over the drive thru. It can suggest new offers, all while your employees can focus on customer service and driving other marketing efforts to better the business.
When you explore Auto and other tools like the ones above, you can expect higher-quality experiences for your diners – so they'll be coming back time and time again. 
Let Auto take over your ordering, so you can guarantee speed and ultimate productivity while you focus on the other aspects of running your business.