In the 1920s, fast food was a luxury. But in the '50s and '60s, this buzz heightened as more people owned cars and were able to enjoy the drive thru experience. 
Nowadays, the excitement remains – just on a much bigger scale. 37% of Americans consume fast food daily, equating to 50 million hungry mouths to feed. That's a lot of cars, a lot of orders, and a lot of pressure on your staff. 
To keep up with the ever-growing popularity of the drive thru, many QSRs are investing in technology to take the strain off their employees and help them serve more customers than ever before. 
Technology is a relatively new addition to the drive thru, so we'll walk you through the ins and outs. We'll look at what drive thru AI is, why it benefits your business, and how you can integrate it into your QSR. 
What is drive thru AI?
Although the concept of the drive thru hasn't changed (it's as simple as drive up, order, drive away), the behind-the-scenes processes are quickly evolving. 
Drive thru AI involves applying artificial intelligence concepts to every step of the experience, from ordering to food preparation and digital marketing. 
The global AI market is set to reach $267 billion by 2027. Big names in the QSR industry, like Burger King and McDonald's, are harnessing this growth to help them deliver a fast, accurate, and customer-centric experience.
What are the benefits of using AI in the quick service industry?
AI is sweeping through QSRs across the globe, and here are the benefits of investing in this technology:
More consistent customer service
Increases upselling opportunities 
Provides a much-needed helping hand
Improves the speed of service
The hospitality industry is still down 750,000 jobs (roughly 6.1% of its workforce) and, unfortunately, customers are noticing it. 
"Staff shortages" appeared three times more often in Yelp reviews than 12 months ago, and even the founding member of Alexandria Restaurant Partners, Dave Nicholas, told CNBC, "We're not sure where all the workforce went." 
This apparent lack of staff has a knock-on effect on the speed of service, leading to a poor customer experience. 
But don't panic. AI can boost business productivity by 40%.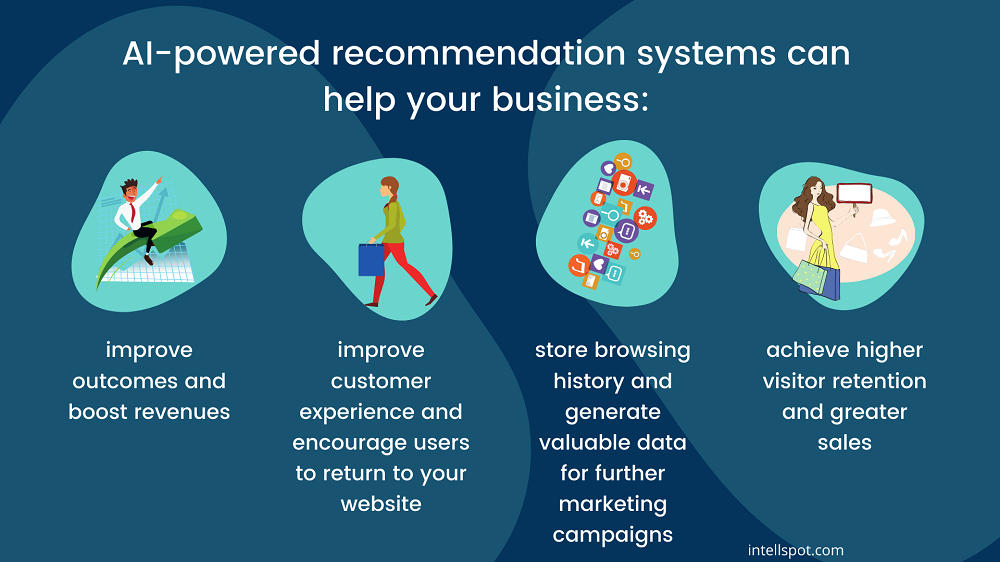 For this reason, QSRs are replacing human staff with automation technology, including inventory management software, voice ordering AI, and digital menu boards. 
Tech can work 24/7, which is why it improves the speed of service (sometimes by 4X) and enables a more consistent customer experience. 
Another unexpected benefit is the increased revenue opportunities. When employees are tired and over-stretched, upselling is the last thing on their minds, so it's no surprise that staff only attempt upsells 4% of the time. In contrast, AI like Auto never gets tired and goes in for the upsell 70% of the time, increasing ticket value by as much as 10%.
3 ways fast food chains or restaurants use AI
As companies like McDonald's begin their foray into automated order-taking, they are setting the standard for the new era of food service. Customers will become accustomed to streamlined technology, and they'll notice the manual workforce flaws even more. 
AI is a wide domain with many specialisms, so it's often hard to know where to start. In this list, we've put together examples of where you can implement artificial intelligence across your QSR to improve operational efficiency.
1. Voice AI
Lee's Famous Chicken Recipe was one of the first QSR chains to integrate conversational AI into its drive thru, with great success. When Auto's voice AI was deployed at Lee's, it successfully completed over 94% of orders, with a 95% accuracy rate. 
Some leaders in the QSR industry, including McDonald's CEO, have voiced the importance of training staff to let the AI do its job and not be tempted to intervene, and Auto proves that tech really can do what it says on the tin. 
For comparison, the average accuracy rate of human cashiers is 84.4%, meaning that the AI is exceeding franchisees' expectations.
2. Detection
One of the most fascinating developments in the retail and e-commerce industry is Amazon's self-serve stores. Instead of paying for your goods at the checkout, you simply pick up your items and walk out. Of course, you still pay for your shopping, but Amazon will charge your card to eliminate the need for queuing. 
Amazon's stores work via sensors that detect what you're purchasing, and the QSR industry is beginning to use similar technology to improve food safety.
AI scanning tools can detect sensory cues such as smell and taste to monitor food quality, composition, and characteristics, which could hugely improve food safety management processes. 
3. Food preparation robots
Domino's recently announced a new robot that will deliver pizzas, and there are many use cases for robotics technology behind the scenes. 
Smaller robots are widely used to complete simple and repetitive tasks such as flipping burgers or monitoring potato frying. But larger robotics technology can even complete entire orders, such as Stella Pizza's machine that can make a pizza in under a minute.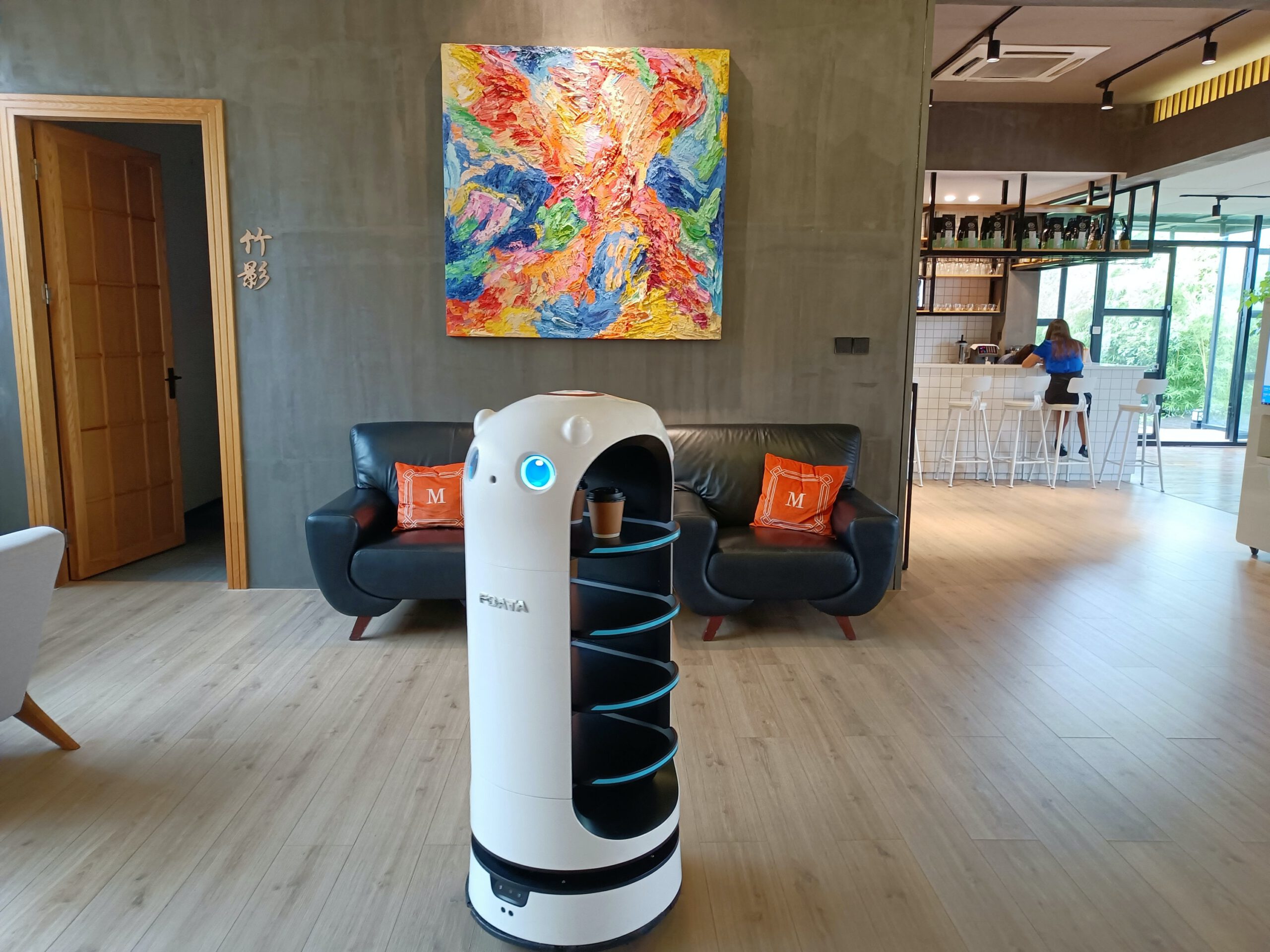 Implementing AI during the food preparation stage removes the need for human employees, which saves on labor costs and serves customers for extended periods of time. 
After all, robotics technology doesn't need a break. 
What is the future of the fast food industry?
The past two years have seen a huge shift in how QSRs operate. Most were forced to speed up their digital transformation efforts to offer touchless experiences during the pandemic, and in many ways, this shift has propelled the industry forward. 
Let's look at the future of the fast food industry…
Higher expectations
During the pandemic, QSRs realized customers are highly adaptable to new experiences, such as the introduction of touchless payments and mobile ordering. Some of this technology is here to stay, as 43% of customers actually prefer to order using their mobile devices. 
Although digital transformation has enabled QSRs to continue offering a quality experience despite societal and economic turbulence, it has also raised customer expectations to higher-than-ever levels. 
Fast digital service is now the norm, and slow manual processes no longer cut the mustard. To stay competitive in the future market, QSRs need to innovate and keep pleasing their digitally-focused guests. 
AI to improve the process
79% of QSRs have increased their digital transformation budget. AI has a wide range of use cases, so there's no doubt it will play a part in alleviating labor pressures over the next few years. 
Sometimes, SMEs look to larger businesses for guidance, which is the case with McDonald's. 
Many smaller chains may have been considering the use of conversational AI at the drive thru, but now that McDonald's has launched its voice-ordering pilot scheme in Chicago, the likelihood is that other QSRs will follow suit. 
It also sets the stage for a new wave of AI adoption in the industry because if McDonald's does it, customers will expect it. 
Tech stacks
Perhaps "tech stacks" is a term thrown around between software developers, not on the restaurant floor. But it's about to become one of the most important strategic business priorities for the QSR industry. 
While AI is a front-runner, it doesn't stand alone. 
QSRs can benefit from the extensive integrations that modern technology solutions offer to link and streamline various parts and processes of the restaurant. 
For example, point of sale (PoS) systems integrate online ordering with kitchen communication, so your food preparation robots can receive orders when customers place them. This helps all the cogs in your burger-flipping machine turn in unison and improves operational efficiency.
Stay ahead of your competition with next-generation technology
The QSR industry is a highly competitive landscape that has faced drastic changes in the last few years. 
Now the pandemic is behind us, customers don't need to choose the drive thru because it can offer a contactless experience – they choose it because they want to. 
Drive thru ordering is fast and accessible, and to maintain a competitive edge your QSR will have to make sure it stays that way. 
If you're raring to integrate automation tech into your business operations, start at the drive thru with conversational AI. 
AI steps in your employees' shoes to provide quick and consistent service 24/7; it will be your best employee to date. Treat your customers to consistently enjoyable service at your drive thru, and they'll keep returning. 
Request a free demo today to start your journey to a digital-focused future.