With the digital world speeding up every experience, diners are now accustomed to the very best customer service. 
This is propelled even further by the speech and voice recognition market, which will be worth $59.6 billion globally by 2030. With voice AI making huge waves across multiple industries, it's caught the attention of major globally known brands. According to Wendy's CEO Todd Penegor, voice AI is the 'first step in a lot of innovation."
While they begin to dip their toes into the AI pond, they're following brands like McDonald's, Lee's Famous Recipe Chicken, and Checkers and Rally's, who have already integrated voice ordering into the drive-thru. 
To keep up with these high customer service expectations, Wendy's is asserting its business as a leader in AI technology with its latest innovation. In this blog, we'll look at what Wendy's new AI drive thru will look like, its benefits, and what other players in the industry are doing.
What will Wendy's AI drive-thru look like?
Fast food company Wendy's is taking the next step in its digital transformation journey. It partnered with Google to create an AI chatbot, FreshAI, to take orders at the drive-thru. 
The software is built on a foundation of Google's large language model (LLM) and will understand Wendy's lingo, interpreting a 'milkshake' as a 'Frosty.' The goal is to remove the slowest point in the order process – which is ordering at the speaker box.
Starting this month, Wendy's will test the tech in a few locations in the Columbus area, with supervision from a human employee. Their new AI will take customers' orders, but the technology that Google is running is in the very early stages. IBM, who had a pilot working at McDonald's in 2020, are also in the primary stages as they've still not scaled the technology. Whereas Hi Auto has built a complete tech stack that is able to serve many restaurants with varying requirements. Auto already has the technology to hit the ground running and it's being used in hundreds of restaurants and QSRs already.
What are the benefits of introducing AI into the drive-thru?
Aside from advancing your digital transformation journey, an AI drive-thru has many benefits.
Reduces labor costs –

Staff turnover in the restaurant industry can be as high as

150%

. For example, when Checkers & Rally's tested AI ordering at the drive-thru, 98% were completed with minimal employee intervention. 

Cost savings –

56%

of restaurants say their revenue has increased since using automation tools, thanks to better productivity, speed, and efficiency. 

Quicker ordering times –

Only

10%

of QSRs manage to serve drive-thru customers in less than three minutes. An AI assistant at the drive-thru is always ready to go and can take others without breaks. 

Adapting to new trends –

Technological innovation is essential in the competitive QSR industry, meaning that stakeholders, customers, and employees will be very interested in how your business harnesses innovation for a competitive advantage.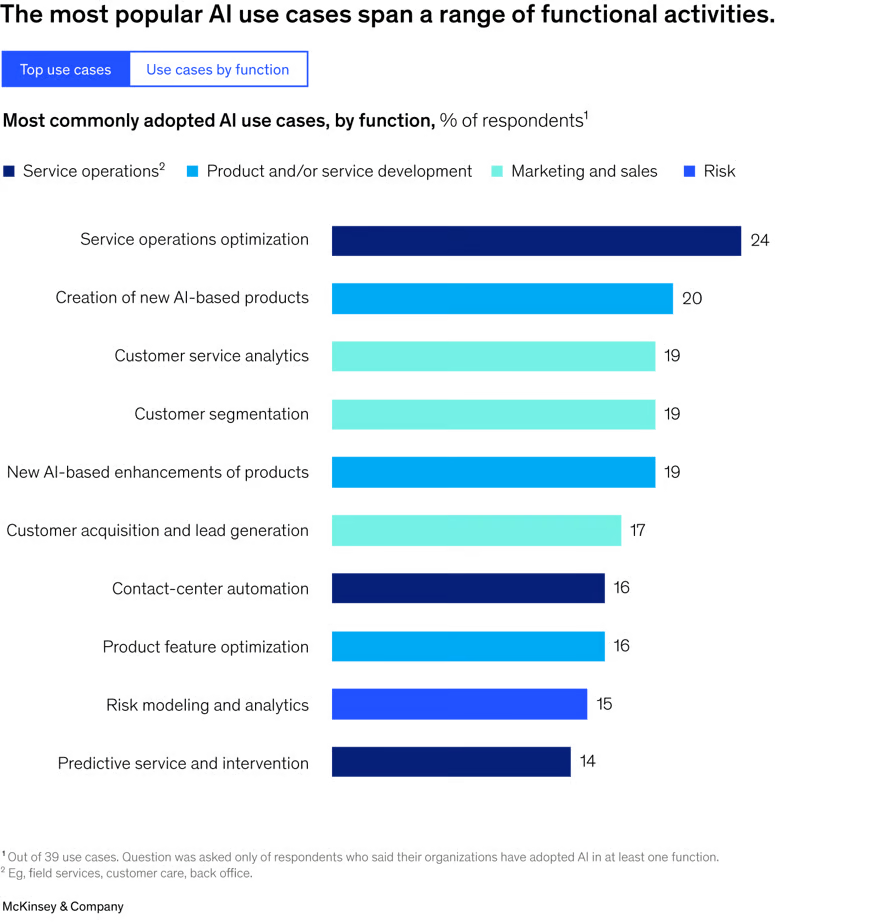 How are other QSR brands competing?
76% of restaurants utilize automation tools in three or more areas of their operations and 96% in their back-of-house operations. Industry front-runner McDonald's recently sold its McD Tech Labs to innovation giant IBM, meaning that the QSR can now leverage IBM's resources, investment, and knowledge. It has been a slow process, however, as the partnership is still in the pilot stage. 
Lee's Famous Recipe Chicken and Checkers and Rally's are also early adopters of conversation AI at the drive-thru. With Checkers and Rally's being the only brand to date who are deploying voice AI at scale – they have 350 stores running voice AI with Hi Auto, in comparison to McDonald's who are only utilizing IBM's AI technology in 25 stores.
Both Lee's Famous Recipe Chicken and Checkers and Rally's have seen excellent order accuracy, speed, and upsells, making AI a new staple in their lanes and cementing Hi Auto as being the only company that has successfully scaled voice AI to hundreds of stores.
Aside from conversational AI solutions, many other QSRs are investing in automation technology. For example, Domino's pizza delivery robot will be a fully autonomous vehicle, and Taco Bell's futuristic drive-thru aims to reduce service times to under two minutes using mini elevators to deliver diners' food. Pretty unique and revolutionary, right? The race to innovate is on. 
8 Things You Need to Know About the New AI Drive-Thru Trend
The AI drive-thru isn't just another restaurant automation trend – it's the future of the quick service industry. Here's what AI innovation means and might look like for your business. 
1. Current industry leaders have taken the AI plunge
The likes of McDonald's, Wendy's, and Domino's are industry leaders for a reason. Their formula for success works, so when they make a big change like taking the AI plunge, the QSR industry takes note. 
First, innovations like touchless and mobile ordering sent ripples through the industry, then businesses began to adopt food preparation robots and self-service kiosks. Now, it's the turning point for conversational AI. 
2. It allows for more accurate order taking
A huge 70% of diners are in favor of food service automation technology if it helps speed up order-taking and accuracy. For example, Auto has a 94% accuracy rate and can understand multiple requests, accents, mid-sentence changes, and complex menus, just like a human employee. 
The key factor is that AI is never distracted and is laser-focused, whereas busy employees might be juggling multiple tasks at once. Its 'non-human-ness' helps improve efficiency even in noisy drive-thru environments.
3. Speed of service can be increased
What if you could serve customers four times faster than you do now? Technology is the ultimate employee of the month because it works 24/7 with perfect consistency, never needing a break, a nap, or a snack. 
Order accuracy in the fast food industry ranges from 79.4% to 89.6% – but every incorrect order sets you back precious minutes. With a drive-thru AI system, you can serve more customers at a faster rate, even opening new lanes without requiring additional labor investment. Faster food = happy diners. 
4. AI may be a front-runner, but it doesn't stand alone
Your QSRs digital transformation journey is a bit like a game of Tetris – you can invest in different technologies and solutions, and ultimately they all fit nicely together to form a larger automation strategy. 
Drive-thru AI integrates with your POS, which in turn integrates with inventory management software to predict your most popular items and automatically purchase new stock. Other examples of AI tech solutions include software for accounting, table reservations, and contactless payments.  
5. In 2023, there are higher expectations
65% of people have higher customer service expectations today than three to five years ago. The stakes are already skyward in the fast food industry, and 43% of QSR customers expect to receive their food within five minutes of orders. 
An AI drive-thru can deliver fast, friendly, and accurate service to hungry customers, freeing up time for staff to deal with complex requests, clean the restaurant floor, and work on back-of-house operations.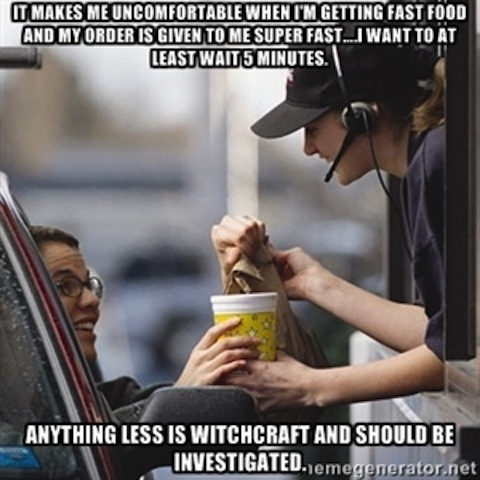 6. Food preparation robots, sensors for food safety, and more
Food preparation robots like the Wingman from Nala Robotics and Flippy from Miso Robotics can help employers save up to 75% on wages, and locations that are open 24/7 could see even more cash benefits. 
After the conversational AI takes the customer's order, the POS will automatically pick it up and send it to the kitchen, where the available robots get straight to work. You can use AI-driven sensors in tandem with robotics technology to monitor the food's temperature, weight, and consistency for safety and quality reasons.
7. Modernizing with the new AI drive-thru trend allows you to stand out
The CEO of Wendy's says it is going to 'drive the restaurant of the future,' and McDonald's chief said, 'Do I think in five years from now you're going to see [voice AI] in the drive-thru? […] I do.' AI helps you deliver a streamlined modern experience to your customers, where automation technology knows what it must do, when to do it, and how frequently. As most AI solutions integrate with other technology (e.g., your POS and accounting software), automation adoption increases efficiency across the board. 
8. The new AI drive-thru trend is more cost-effective for QSRs
A single investment in an AI solution guarantees a 24/7 working capacity, which is great if you are short on staff or expanding store hours (like Wendy's). In comparison, labor costs can make up 25-40% of QSRs' spending, including around $5,864 per person for recruitment – rising even higher depending on staff turnover. 
AI is always ready to work consistently and quickly, offering huge productivity benefits for QSRs to help you serve more customers and keep labor costs down. 
Increase Sales, Productivity, and Revenue with Automation Technology
Just as the restaurant industry innovated to adopt touchless ordering, contactless payments, and even the drive-thru back in the 1920s, it will surely embrace new technologies like AI for better customer service, efficiency, and cost savings. 
The great thing about conversational AI is that you won't feel like you're replacing a human employee with a robot – solutions like Auto are designed to greet your customers and adapt to complex accents and loud environments, just like any employee would. It's a seamless transition between human and machine that your customers will appreciate. 
If you want to be part of the tech race to the top, try Auto for free today.